Recipe of the day: How to prepare egg omelettes without any oil (with water)
This Korean style of cooking eggs is the healthier way, and results in a thicker, more scrambled steamed omellette.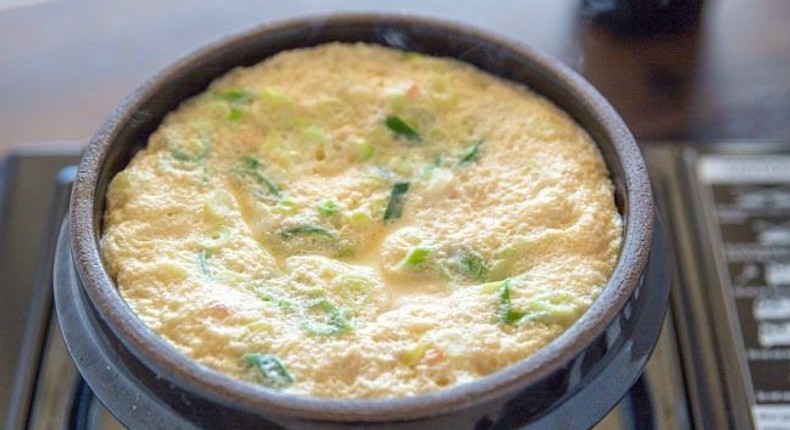 ingredients
6 eggs
2 tomatoes (chopped)
2 bell peppers (chopped)
1 spring onion (chopped)
1 green pepper (chopped)
Salt to taste
Other seasoning of choice (optional)
Break eggs into a bowl and whisk.
Add tomatoes, peppers, onion and salt. Add the other seasonings if using.
In a wok or non-stick pan, heat about 150ml of water.
When water is heated, but not boiled, pour in egg mixture. Let heat be low or medium.
Leave for about a minute, then use a rubber spatula to turn mixture, making sure to scrape the bottom and sides of the pan. Allow to simmer again. Repeat between 2 minute intervals.
When the egg starts to thicken, about 80% done, cover with a lid and allow to steam on low heat. Your egg should look almost like scrambled eggs.
Your eggs are ready, and you didn't even have to use oil!
JOIN OUR PULSE COMMUNITY!
Recommended articles
Maintain a healthy lifestyle with these agricultural products and daily routine
Nigeria: Creating a sustainable disability inclusion plan in post-COVID world
Advantages of getting married late
Signs that shows that a woman isn't interested in you
5 tips on how to maintain white sneakers
5 reasons you should consider dating an Igbo man
Language is the true essence of culture- Fareedat Muhammad Qieyaz
Men's fashion inspired by Steve Harvey
Why women are more likely to contract STIs