Terra Kulture gallery houses the best of African culture
From the grand entrance to the gallery to the interior designs and all, Terra Kulture is a place for art lovers.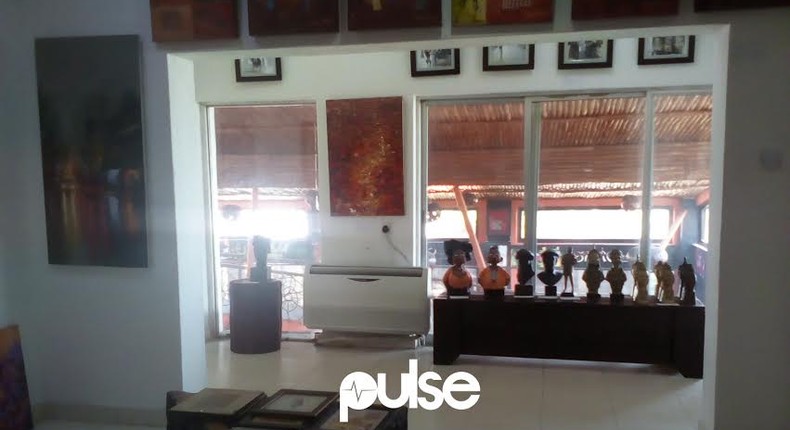 Terra Kulture combines a bookstore/library, local restaurant and an art gallery.
The restaurant, on the ground floor, greets visitors as they arrive and also ushers them into the gallery through something that looks like a round slide up the stairs. I love the interior of this building already.
Now in the gallery, is a medium-sized spacious room which serves as the reception with a three seater couch just beneath a writing on the wall that reads Terra Kulture.
The reception leads right into a passage on the both ends of the room. Each passage exposes three different rooms lying in between them and of course, linking them up appropriately.
The first passage houses strictly a set of oil and acrylic on canvas paintings. Although a passage, it's well lit, neatly arranged and the pieces were displayed properly with details of each work lying beside the frame.
The first interlinked room is filled with all sort of beautiful mixed media pieces that told stories about Lagos; the marketplace, the street, roadside transport amongst others.
One thing I love about this gallery is the orderly manner in which every piece is neatly aligned.
The other room tells the story of Nigeria, the northern part and some parts of Lagos in display as well.
On the other side of the rooms, which is the second passage houses the sculptures, all arranged on a platform with a proper description.
One striking thing for me about this gallery was the time taken into organising the pieces. The separation and categorization of the pieces made it easy to be able to identify where to find the different items. The oil and acrylics on canvas had their segment, Lagos had its as well as Nigeria with each of these various pieces tagged with the prices, the artist responsible for the work and a brief description of the works, that way we could see through the eyes of the artists.
The gallery is quite spacious and not too many piece on display that way, you'd have a clear sight of each work and have enough chance to appreciate them. I, however, felt the gallery should have been bigger. I wanted more, but I didn't get more because, there was space constraint.
Without failing to mention, I loved the ambience of this gallery, the lightings and the white sparkling walls.
Terra Kulture is indeed a place that reveals the culture of Nigeria.
JOIN OUR PULSE COMMUNITY!
Recommended articles
The Library: Redefining nightlife in Lagos
5 simple tips for finding love while travelling
Fashion Police: Here's what we think about Chioma Good Hair's birthday shoot
5 s*x positions that guarantees orgasms
Here are 5 things you must do immediately after you have s*x
Can having a lot of s*x loosen the vagina? Here are all the myths and facts
The history of the Ojuelegba area in Lagos
Ladies: Here are 4 reasons why garden eggs should be added to your diet
How belly buttons can cause body odour