Learn how to make this super delicious recipe
A combination of the tender, juicy chicken with the creamy, lemon-infused sauce makes this recipe a perfect dinner option.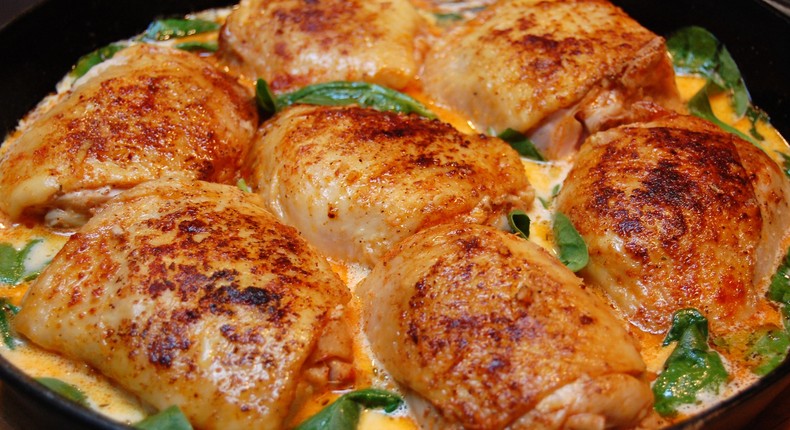 Lemon butter chicken is crisp-tender chicken with the creamiest lemon butter sauce ever
know eating a particular dish in a different way (especially when it turns out to be delicious) can be so amazing, mouth-watering and leaves you wanting for more? That's exactly what this recipe does.
Pairing the tender, juicy chicken with the creamy, lemon-infused sauce is what makes this recipe totally awesome and it's pretty much easy to prepare.
1. 4 – 6 deboned chicken thighs
6. 3 Tablespoon Unsalted butter
9. ¼ cup freshly grated Parmesan
11. 1 teaspoon dried thyme
1. Season the chicken with salt, pepper and paprika and set it aside.
2. Melt 2 Tablespoons of butter in a large pan over medium-high heat.
3. Add the chicken thighs and sear both sides until it is golden brown.
4. Melt the remaining tablespoon butter in the skillet. Add garlic and stir-fry for about 2-3 minutes.
5. Stir in chicken broth, heavy cream, Parmesan, lemon juice and thyme. Boil for about 5 minutes
6. Add the spinach and boil until the sauce thickens a little.
7. Stir in the chicken. Put in the oven and roast until it is cooked.
Yummy! Lemon butter chicken is absolutely ready.
JOIN OUR PULSE COMMUNITY!
Recommended articles
Best dressed celebrities at Ini Dima-Okojie's traditional wedding
Regular intake of tea reduces risk of chronic diseases - Nutritionist
Women Talk S3x: 'I hate that sexual passion doesn't last beyond 1 year'
Lagos announces landmark air quality declaration to improve climate and health
Ben Enwonwu's Ogolo gets valued at $105,000 at Artsplit's inaugural physical auction
Chaotic life of an HR: The unfolding drama (Ep.12)
If he does not do these 5 things for you, let him go
Here's why standing during s*x could lead to stroke - Experts explain
How to visit Rwanda on a budget