How to remove snail slime
Snail meat is a delicacy, no doubt. But the real problem is cleaning off the slime completely before cooking.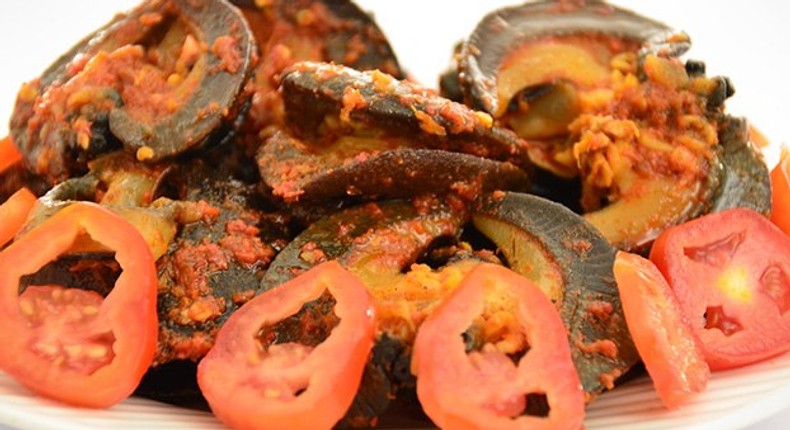 As great as snail meat tastes, cleaning it is a headache most people would rather not go through.
The slime is very thick and sticky, sort of like clear, sticky phlegm.
There are several items that can be used to clean the slime off snails such as salt, lime and alum. Salt is used because of it's abrasive properties, lime is used for its acidic properties and alum is used for it's purification properties.
For efficacy and double assurance, you may use two of the three items named above.
1. Put the snails you intend to clean (after removing the shells of course) in a bowl and sprinkle lime juice on them, making sure that the lime juice touches every part of the snails.
2. Scrape off as much slime as you can with a large spatula or the blunt side of a kitchen knife.
3. By now, the slime would have reduced considerably. Then you use the halves of the limes to scrub the snails, cleaning off more slime.
4. Rinse off with a lot of water.
5. Take a piece of alum and scrub the snails carefully, cleaning the corners that the lime did not reach.
6. By now the snails should feel squeaky clean, if not, scrub some more till completely clean.
7. Rinse with plenty water to remove all traces of lime and alum.
JOIN OUR PULSE COMMUNITY!
Recommended articles
See the sights of the first ever Expo Lagos show
5 ways to avoid your drinks being spiked on an outing
Best pictures on Instagram this week
African Gods: Who is the goddess Oya?
5 common Saturday breakfast meals in an African home
How to know when your friends have high-functioning depression
Style Inspiration: Temi Otedola is the queen of modest fashion
Why do Nigerian fashion designers not make clothes specifically for our weather?
Couple's Therapy: 3 married Nigerians talk about cooking duties