Harvard university graduate, Chef Curry, teaches us how to make "the American Jollof"
With only a few different ingredients like cauliflower in place of rice, cherry tomato in place of sweeteners, we were taught how to prepare Jambalaya, "the American jollof," which originates from the French quarter of New Orleans.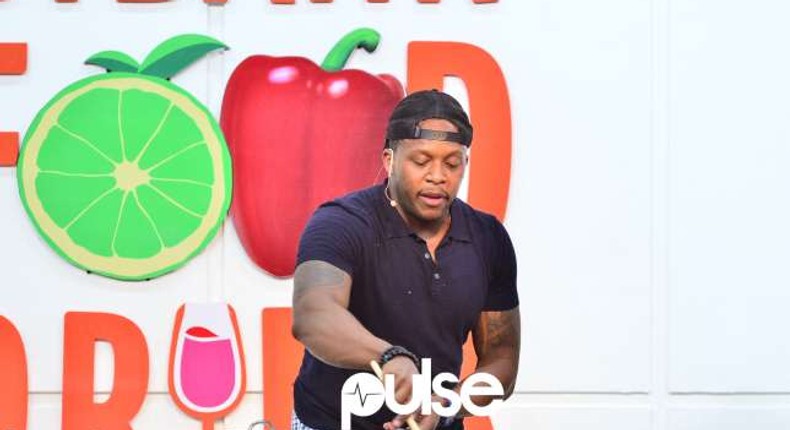 Kevin Curry definitely got us all thrilled with his Jambalaya recipe which he calls the American Jollof.
Harvard university alumnus and founder of "FitMenCook", an online platform promoting fitness and healthy cooking habits, Chef Kevin Curry, at the GTBank food and drink fair 2017 master class not only wowed us with his amazing cooking skill of the Jambalaya recipe, "the American Jollof", but also with an organised presentation of what being a good cook entails.
Speaking on what and how we cook, Curry said, "we can all be a little bit more educated about the food we eat how they make us feel afterwards."
Curry while talking about calorie-conscious cooking, as he prefers calling it says, "I don't believe God will put us on this earth with beautiful people and culture and then say we can't eat Jollof rice."
The Jambalaya recipe, a one-skillet recipe, is similar to Jollof rice. It's amazing how different people with different tribes and cultures are closely related than they know.
1. Dice the cauliflower into smaller bits. Squeeze the water out and roast well and set aside. The cauliflower serves as the rice in this case.
2. In a non-stick skillet, add some olive oil and heat it up on medium heat.
3. Add chopped garlic, onion and pepper. Stir-fry for about 2-3 minutes till the onion becomes transparent and well flavoured.
4. Cut the chicken breast into smaller bits and add to the mixture in the skillet
5. Dice some sausage and pour it into the skillet. The sausage is supposed to add more fat to the dish. That way, we won't have to use lots of oil in cooking.
6. Add the diced green pepper, celery, cherry tomatoes (as sweeteners), cayenne pepper, dry thyme, prawn, tomato sauce and chicken sauce. Stir properly.
7. Stir in the cauliflower. Add bay leaves and simmer for about 10-15 minutes.
8. Add salt to taste, if you wish, just before you finish cooking.
JOIN OUR PULSE COMMUNITY!
Recommended articles
5 food Nigerians can no longer buy because of inflation
5 ways to make your girlfriend miss you like crazy
10 people talk about the importance of pre-marital s*x despite religious restrictions
Here are the most common breakfast recipes in Nigeria
The most unique Igbo names for girls
5 ways to naturally increase the size of your breasts
Elon Musk turns 51, crosses 100 million followers on Twitter
Drinking semen boosts fertility: Myth or fact?
Is cohabitation before marriage linked to higher divorce rates?