Enjoy the best of both worlds with Tuwo and Gbegiri
The weekend just got more interesting with this tasty delight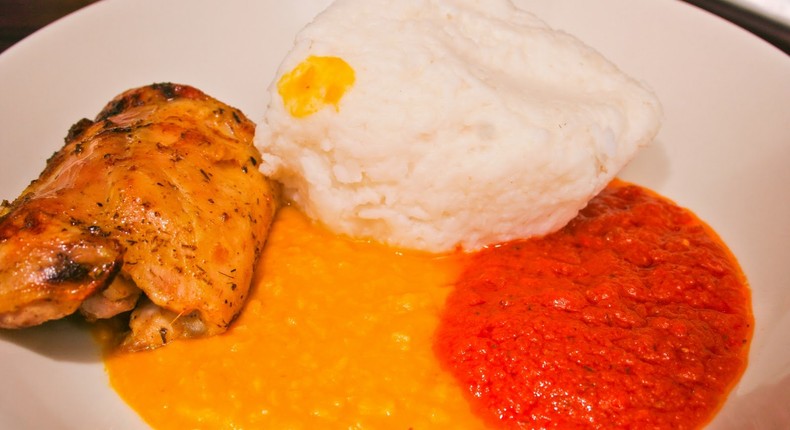 Its that time of the day when we sizzle your taste buds and usher you into the weekend mode.
In searching for a recipe for today, a colleague graciously offered to share a personal recipe of hers...tuwo and gbegiri - a meal which traverses two cultures; Yoruba and Hausa.
So in true TGIF style, we urge you to whip out your notepads and get a few pointers as we take you on a journey across tribes.
Tuwo Rice (also known as Tuwo shinkafa)
Beans
Tomato(optional)
Onions(optional)
Pepper
Palm Oil
Salt
Seasoning Cube
Cray Fish
Fish/Assorted Meat
Water
-  Wash and peel your beans
-  Wash and boil the meat of your choice until it is well-cooked. Season with seasoning cube, curry, onions and any other seasoning of your choice.
-  Boil the beans with plenty of water until its very soft for about an hour; keep topping with water to ensure that the beans comes out very soft.
-  Bring down the beans and either mash till very smooth or blend. To ensure that you get a very smooth paste with no residue, sieve out the chaff.
-  Blend your pepper, tomato and onions together
-  Heat palm oil with blended pepper, tomato and onions
-  Put the mashed/blended beans back on the fire and add the heated palm oil sauce to it
-  Add seasoning cube, salt, smoked fish, already boiled meat and cray fish. Cook until the mixture changes to a yellowish colour.
-  Wash and boil rice, do not add salt
-  Keep adding water intermittently till the rice is softer than the regular rice that is eaten with stew
-  When the rice is boiled, mash and turn with a turning stick in the same manner as you would make eba
-  When it is well-mashed, put back on the fire and cook for about two minutes
JOIN OUR PULSE COMMUNITY!
Recommended articles
Ben Enwonwu's Ogolo gets valued at $105,000 at Artsplit's inaugural physical auction
Chaotic life of an HR: The unfolding drama (Ep.12)
If he does not do these 5 things for you, let him go
Here's why standing during s*x could lead to stroke - Experts explain
How to visit Rwanda on a budget
5 amazing things to do in Osogbo, Osun state
Problems of education in Nigeria and how to solve them
What you need to know about Type 2 diabetes
5 benefits of using moisturizers