How to make cabbage swallow for a keto diet
Activate your keto with this low carb meal.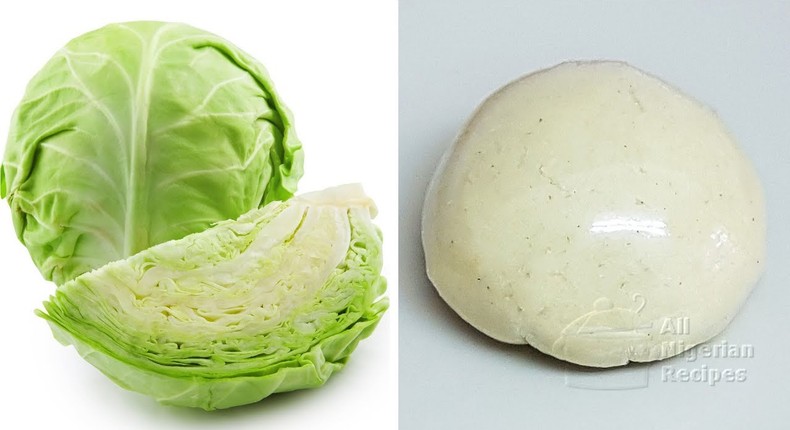 This recipe gives you the satisfaction of eating swallow with your low-carb/high-fat soups without ruining your streak.
Learn how to make cabbage swallow for a keto diet with this simple recipe.
Keto is a diet approach which require its followers to eat meals high in fat, low in protein and very low in carbohydrate. However, it is hard to find meals in Nigeria that are not high in carbohydrate. Recipes like this act as good substitutes for your favourite meals so you never have to miss out.
Cabbage is a leafy vegetable that is very low in carbohydrate. It comes in green, white and purple, so the colour of cabbage you use determines the colour of the swallow.
Cabbage in this recipe can be replaced with coconut flour, cauliflower or even, garden egg.
Ingredients
2 tablespoons of Psyllium husk (gluten-free husk gotten from the seed of a plant called Plantago and sold at pharmacies and health stores)
Preparation
1. Cut and wash the cabbage
2. Boil with little water for about 5 minutes
3. Strain water and blend cabbage till it forms a fine puree.
4. Pour puree into a pot and heat on low flame for about 3 minutes while stirring.
5. While heating up, add psyllium husk to bind the puree together and keep stirring with wooden spoon.
6. Mold like you would other swallows.
JOIN OUR PULSE COMMUNITY!
Recommended articles
7 reasons why you should avoid skipping meals
What to do when someone says they want s*x without commitment
OPPO Reno7: The portrait expert powered by cutting-edge hardware and artificial intelligence
9 dangers of being addicted that is taking a toll on your life
5 common types of skin diseases
5 surprising facts about obesity
5 foods that can help boost your mood
Back pain: Prevention and treatment
Sperm colour: Here's why your semen colour changes and what it means