Try the Lasagna this Christmas
Made with a variety of ingredients including ground beef, cheese, tomato sauce and more, this is the perfect recipe to try if you're looking to do things differently this Christmas.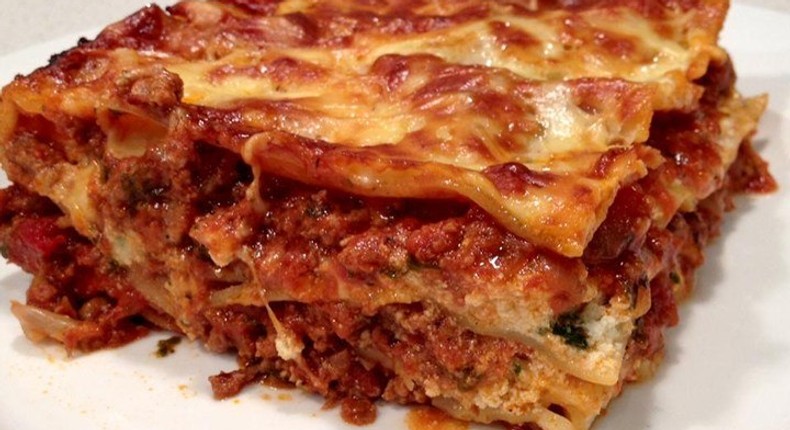 Lasagna refers to wide, flat-shaped pasta and is a popular Italian recipe.
Check out this recipe courtesy All Recipes.
1 pound bulk Italian sausage
 1 pound ground beef
1 cup chopped onion
4 cloves garlic, minced
2 cans tomato sauce
1 can crushed tomatoes
1 can Italian-style crushed tomatoes
2 cans tomato paste
3 tablespoons chopped fresh basil
2 tablespoons chopped fresh parsley
2 teaspoons brown sugar
1 teaspoon salt
1 teaspoon Italian seasoning
1/4 teaspoon ground black pepper
1/2 teaspoon fennel seeds (optional)
1/2 cup grated Parmesan cheese
12 lasagna noodles
1 egg
1 container ricotta cheese
2 tablespoons chopped fresh parsley
1/2 teaspoon salt
1 pinch ground nutmeg
1 package shredded mozzarella cheese, divided
3/4 cup grated Parmesan cheese, divided
JOIN OUR PULSE COMMUNITY!
Recommended articles
2 amazing ways of making Bitter kola Drinks
5 ways to maintain good personal hygiene without stress
5 risks associated with microblading your eyebrows
5 causes of dark underarms and how to lighten them
Meeting Chukwuemeka
From Egbeda to Lekki with love
Foods that boost your immune system
Things you should know before getting Botox treatment
What makes the Igbo apprenticeship system special?