How to make the Brazilian quindim
The Brazilian quindim is a popular Brazilian baked dessert, made chiefly from sugar, egg yolks, and ground coconut.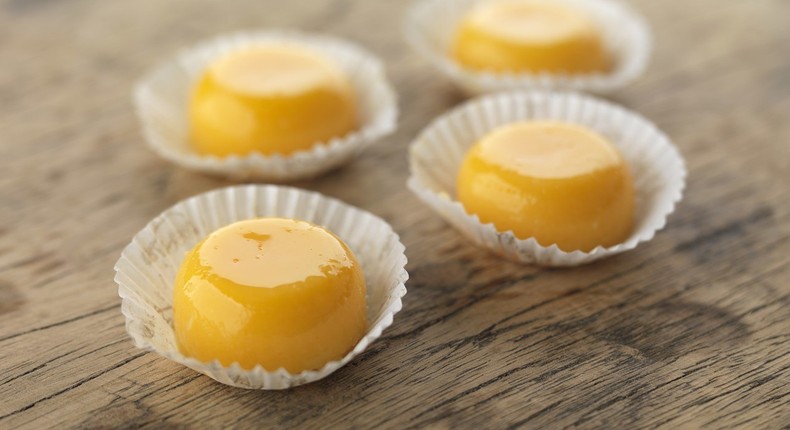 Go on a journey to Brazil with this delicious dessert ideal for a dinner party.
It is a custard and usually presented as an upturned cup with a glistening surface and intensely yellow color.
Check out this recipe courtesy Great British Chefs.
50g of desiccated coconut
265g of caster sugar, plus extra for coating
275g of milk
15 egg yolks
1 pinch of salt
1/2 lemon, juice only
1 knob of butter
Mix 50g of the sugar with 150ml of the milk in a saucepan and bring to the boil. Once boiling, remove from the heat and pour over the coconut. Set aside for 2 hours.
After 2 hours, whisk together the egg yolks and remaining 215g sugar before adding the salt, remaining 125g milk and lemon.
Grease the dariole moulds with the butter and sprinkle over some caster sugar to coat. Tip out any excess sugar, then place a small layer of the soaked coconut into each mould.
Preheat the oven to 140°C/gas mark 1.
Pour the liquid custard mix over the coconut bases - roughly 40g of mix in each mould, place in a bain marie and cook in the oven for 45 minutes, or until set.
Remove from the oven, set aside to cool then run a small, sharp knife around the custards. Turn out onto plates and serve.
JOIN OUR PULSE COMMUNITY!
Recommended articles
Where Next: Glenfiddich introduces M.I The Guy, Nancy Isime & Mr Eazi
This week's best celebrity pictures on Instagram
Experience VIP activities by Veuve Clicquot at the 2023 NPA Lagos International Polo Tournament
Nigerian Culture: Baby upper teeth first myths you should know
Style Alert: Many celebs are rocking the rich aunty aesthetic
Here are ways to naturally enlarge the male organ
Most common HIV symptoms in men
6 things you need to know about sugar daddy relationships
Here are 4 types of single ladies that men avoid