How to make puff puff at home
Puff puff, arguably the most popular 'street food' in Nigeria can be enjoyed in the comfort of your home. Find out how.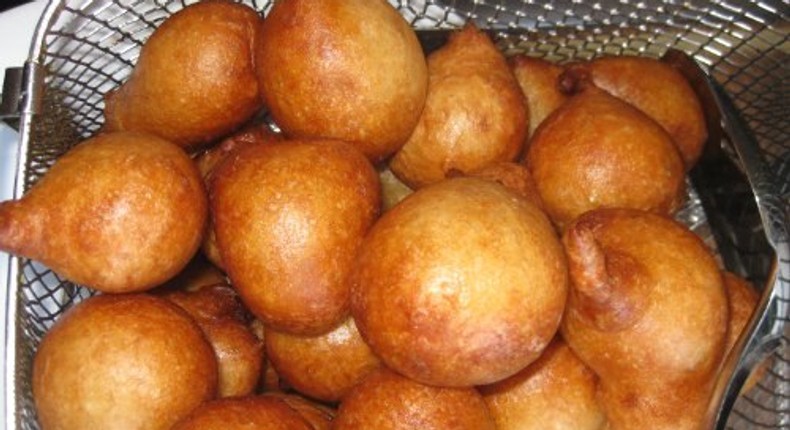 Many puff puff lovers dont know how to make it, even though it is really easy to make.
I guess it's because it is seen as something we buy on the street corner, rather than a homemade snack.
Here is how to make puff puff at home:
- Pinches of salt and sugar
(Note, you can double or reduce the ingredients to suit your needs according to the quantity you want to make)
1. Pour the flour, yeast, nut meg and salt into a mixing bowl.
2. Slowly add enough water into the bowl while mixing it to create a thick and smooth batter.
3. Cover the mixture and leave to rise for about 50 minutes.
4. Put a large pot or pan on the cooker, set the heat to medium and heat up the vegetable oil till it's very hot.
5. Scoop some of the mixture with your hand and put the ball of batter in oil. Do this till the pot is full.
6. Fry till the balls of puff puff are evenly brown on all sides.
JOIN OUR PULSE COMMUNITY!
Recommended articles
Regular intake of tea reduces risk of chronic diseases - Nutritionist
Women Talk S3x: 'I hate that sexual passion doesn't last beyond 1 year'
Lagos announces landmark air quality declaration to improve climate and health
Ben Enwonwu's Ogolo gets valued at $105,000 at Artsplit's inaugural physical auction
Chaotic life of an HR: The unfolding drama (Ep.12)
If he does not do these 5 things for you, let him go
Here's why standing during s*x could lead to stroke - Experts explain
How to visit Rwanda on a budget
5 amazing things to do in Osogbo, Osun state