How to make a non-tomato beef stew
With the biting scarcity of tomatoes however, many have been forced to seek alternatives and the non-tomato beef stew is a great option.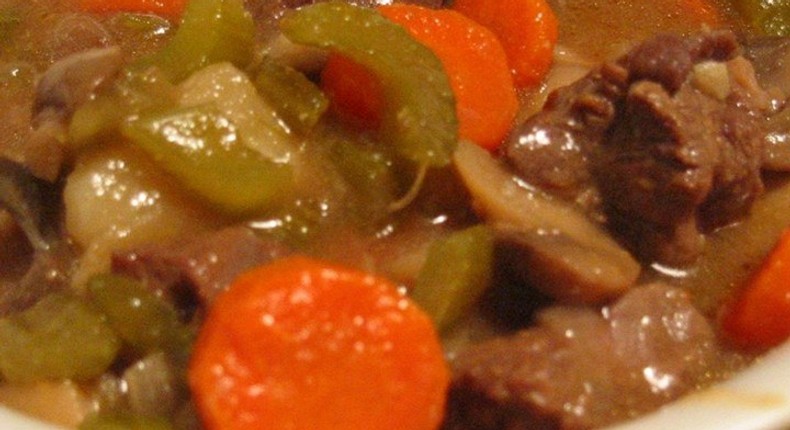 Many a Nigerian home is accustomed to the red tomato stew garnished with a choice of either fish, beef or chicken and eaten alongside rice, yam or any other side dish.
Combining flour, beef broth, carrots, potatoes and more, think of this as a 'Chinese' sauce which is great with rice or even yam.
Check out the recipe courtesy All Recipes.
1 pound cubed beef stew meat
1/4 cup all-purpose flour
1 tablespoon paprika
salt and pepper to taste
2 cups beef broth
1 1/2 tablespoons teriyaki sauce
1 onion, chopped
3 carrots, sliced
1 stalk celery, sliced
2 potatoes, cubed
1/2 pound mushrooms, quartered
2 cloves garlic, minced
1 bay leaf
JOIN OUR PULSE COMMUNITY!
Recommended articles
How to survive Detty December in Lagos
Like never before, The Arkersons Agency begins Influencer Management in Nigeria
Wearing socks during sex can give you more intense orgasms, here's how
How to make love: 3 surest ways to have intense/multiple orgasms
Don Jazzy's food business, Jazzy's Burger, has just begun operations
How onion juice can spur hair growth and prevent baldness
A DECADE AFTER – Gaise Baba Live in Concert
Style Inspo: 5 looks for 5 days of work, all inspired by Idia Aisien
"Service to others is the rent we pay for your room here on earth" – Sujimoto MD and philanthropist, Sijibomi Ogundele returns to where it all began