5 interesting things you should know about Turkish coffee
Coffee is a very popular beverage in Turkey and on arrival in the average Turkish household, it is not unusual to be offered coffee.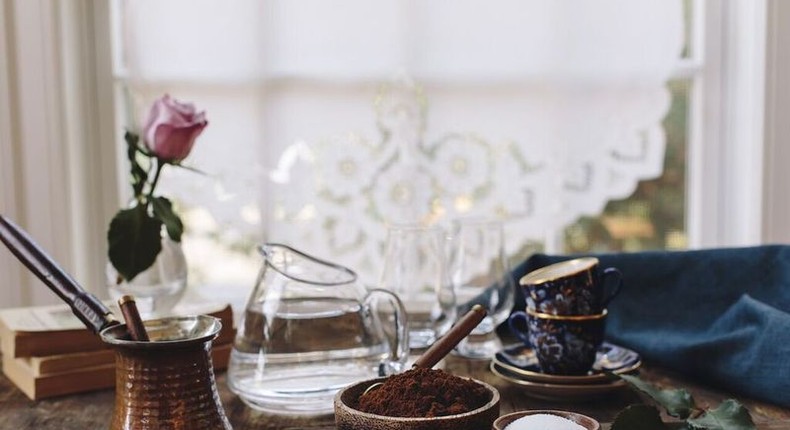 When it comes to strong, lethal coffee, it doesn't get any stronger than Turkish coffee.
Straddling the borders of Europe and Asia, Turkey is a fascinating country that is a fine mix of ancient and contemporary, and this is reflective in its cuisine and drinks too.
But what is it that makes this brew so special and how are the various ways it can be served?
Here are 5 interesting things you should know about Turkish coffee.
Check out a step-by-step guide to making Turkish coffee, courtesy Aysegul Sanford of Food 52 below:
Always use cold, filtered water. Measure the amount of water for each cup using the coffee cup you are going to serve it in. It is advisable to use a volume of water 1 1/2 times the volume of the coffee cup.
For each person you're serving, use 1 heaping tablespoon of ground coffee, and if you're preparing the coffee with sugar, add it in at the very beginning, stirring it into the ground coffee and the water until combined. But, if one or more of the guests prefers no sugar, prepare and pour that cup first. After returning the coffee pot to the heat, then begin the sugar additions to suit the remaining guests.
Slowly bring the mixture to a boil over medium heat for about 3 to 4 minutes.
As the coffee warms, dark foam will build, it is customary and important to serve Turkish coffee with foam on top.
When the mixture is close to a boil, use a teaspoon to transfer some of the foam into each Turkish coffee cup. Return the coffee pot to the stovetop. As the coffee comes to a boil, pour half of the coffee into the cups, over the foam.
Return the coffee pot to the stove top and boil the remaining coffee for an additional 10 to 15 seconds, then divide it into the cups to fill them to the rims.
Serve with Turkish delights, chocolates etc.
JOIN OUR PULSE COMMUNITY!
Recommended articles
#AMVCA 2022: Best and worst dressed celebrities
Women Talk S3x: 'If you can't dominate anywhere else, do it in the bedroom'
Pregnancy is achievable in women with lupus- Experts
5 strange beauty rituals across the world
7 marvels of the Ancient world
Cultural story of dreadlocks
Udi hills: The rock climbing haven in Enugu State
7 reasons why you should visit Tanzania
62-year-old Kenyan conquers Mt Everest, world's tallest mountain [Photos&Video]