British man ends up being the ONLY passenger on a 150-seater plane
British chess player, Nigel Short ended up being the only passenger aboard a 150-seat Air Zimbabwe aircraft flying from South Africa to Zimbabwe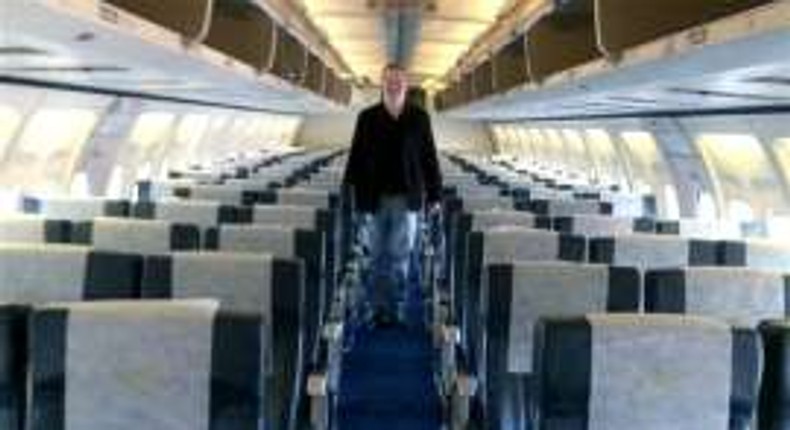 Ever thought of what it would be like to be on a plane all by yourself without other passengers?
Well British chess player, Nigel Short recently had this experience after he discovered he was the only passenger aboard a 150-seat AirZimbabwe aircraft flying from South Africa to Zimbabwe.
When Short arrived at the airport in Johannesburg, he was reportedly told not to be late as he was one of only four people on the flight to Victoria Falls.
The Lancashire native said he heeded the instruction and arrived at his gate on time but there was no one there.
"I was uncomfortable because I thought maybe I made a mistake or arrived too early" he said.
So he returned to the main terminal to double-check his gate information and found it was correct, and then went back to the gate but didn't see any passengers or staff.
Eventually, the Air Zimbabwe crew arrived and they told him he would be the ONLY passenger flying.
Describing the experience, Short said he was amazed the flight wasn't cancelled, adding that he chose a window seat since he was the only person on the entire plane.
He also said the crew completed the safety demonstration and all announcements were directed to him.
"Everything was addressed to me personally, everything began ''. It was all smiles and it was a bit of a joke, really. But they went through things in the proper way. I think they very much saw the funny side of the whole thing as well." he said.
JOIN OUR PULSE COMMUNITY!
Recommended articles
Sights and sounds from Fenty's Beauty launch in Nigeria
Best celebrity pictures on Instagram this week
Did you know some men find it hard to ejaculate? Here's why that happens
5 millennials talk about what they miss about being kids
Badagry Slave Route: Slaves passed these 5 notable stops on their journey of no return
Exclusive dinner or luxurious spa date for you – Match and Go!
3 celebrity looks inspired by Rihanna's pregnancy fashion
Check out StarTimes 2022 price and never-to-miss shows
5 African dishes to celebrate Africa Day 2022