All you need to know about Chief Mrs Nike Davies-Okundaye
Chief Nike is an international star, a professor without a degree and an artist with a passion to start a cultural revival in Nigeria.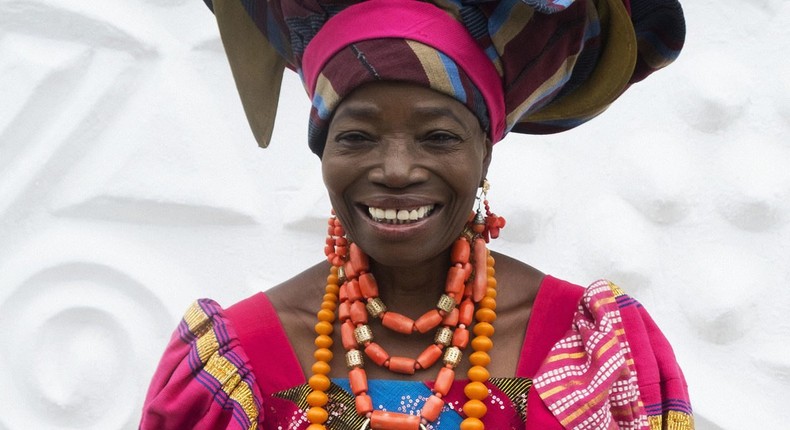 Heres all you need to know about the living legend, Chief Mrs Nike Davies-Okundaye.
Chief (Mrs) Oyenike Davies-Okundaye was born in 1951 in Ogidi-Ijumu, Kogi State, Nigeria. She grew up learning the common craft — traditional weaving and dying practice — from her parents and great grandmother who were musicians and craftspeople and specialised in the area of cloth weaving, Adire making, indigo dying and leather.
Spending her adolescent years in Osogbo, one of the major centres for art and culture in Nigeria, she learned indigo dying and Adire production from the famous Osogbo Art School. With this training, she discovered a passion for textile designs in the Adire and batiks.
From her first solo exhibition at the Goethe Institute, Lagos in 1968, Nike has since grown to become one of the major names on the international art circuit. She has had over 102 solo art exhibitions and 36 group art exhibitions in her artistic life. Many of her art works can be found in many private homes collections and public institutions collections including schools, colleges, universities, palaces and museums all over the world.
ece-auto-gen
The artist has used her international success to launch a cultural revival in Nigeria, founding four art centres in the country. The centres offer free training to over 150 young artists in visual, musical and performing arts. The most popular one is the Nike Arts Gallery which is the largest art gallery in West Africa, compromising over 7,000 artworks. The centre also serves as a rich source of knowledge for traditional arts and culture to scholars and institutions.
Nike's designs have been promoted through exhibitions and workshops in Nigeria, USA, Belgium, Germany, Austria, Italy and the United Kingdom.
In 2013, two of Nike's major art works "Liberal Women Protest March (Parts 1 & 2)" were collected by the world's largest museum, the Smithsonian National Museum Of African Art in Washington DC, USA for permanent display.
She also holds the titles of Traditional chieftainship titles of Yeye Oba of Ogidi-Ijumu land, the Yeye Tasase of Osogbo land and Yeye Gbasaga of Ijumu Kingdom.
Chief Nike lives and works in Lagos, Nigeria.
JOIN OUR PULSE COMMUNITY!
Recommended articles
Bisi Is The Boss: The book every child needs to have on personal safety, body ownership and boundaries
3 reasons why s*xting is needed in your relationship
7 things every woman wants to hear during s*x
5 ways to relieve a stomach ulcer at home using natural remedies
3 home remedies for tooth decay and cavities
These 5 aso-ebi styles are trending
Why South Korea is the plastic surgery capital of the world
Burger King Nigeria is bringing the real Burger Week Experience with delicious deals starting NOW!
Balenciaga's new collection: Bizarre social experiment or marketing genius?