5 delicious dessert options to try
One thing that adds some necessary fluff to your diet is dessert.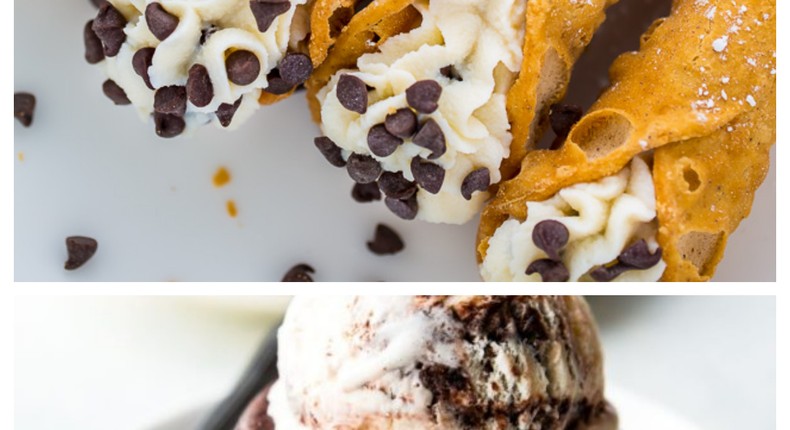 Desserts are pastries or ice cream eaten at the end of a meal or after the main course.
In Nigeria, dessert is usually cake and that is very limiting.
When it comes to pastries, it is mostly meat pie, doughnuts, puff puff and cakes. Meanwhile, there is a whole array of dessert options.
Here are five fantastic dessert options;
1. Mini molten lava cakes
Pulse Nigeria
Mini lava cakes are as sweet as sin. These are cupcakes with a delicious middle. They are moist chocolate cakes with gooey melted chocolate at the centre
2. Mini candy apples
Pulse Nigeria
This is just like candy apples but in this case, just a small portion of the apple is scooped and dipped in melted chocolate and other candy.
3. Mocha affogato
Pulse Nigeria
This is ice cream drowned in hot espresso, plus a little rum and chocolate added to it.
4. Cannolis
Pulse Nigeria
This is made with cannoli shells, ricotta cheese, confectioners' sugar, mini chocolate chips and vanilla extract.
5. Mini blueberry pie
Pulse Nigeria
Blueberries are folded in your pie crust, a little sugar is added and it is put in an oven to bake.
Next time you are at a fancy restaurant, try any of these for dessert or learn to make them at home.
JOIN OUR PULSE COMMUNITY!
Recommended articles
Regular intake of tea reduces risk of chronic diseases - Nutritionist
Women Talk S3x: 'I hate that sexual passion doesn't last beyond 1 year'
Lagos announces landmark air quality declaration to improve climate and health
Ben Enwonwu's Ogolo gets valued at $105,000 at Artsplit's inaugural physical auction
Chaotic life of an HR: The unfolding drama (Ep.12)
If he does not do these 5 things for you, let him go
Here's why standing during s*x could lead to stroke - Experts explain
How to visit Rwanda on a budget
5 amazing things to do in Osogbo, Osun state