5 common Saturday breakfast meals in an African home
If you grew up in an African home, certain rituals are synonymous with living there.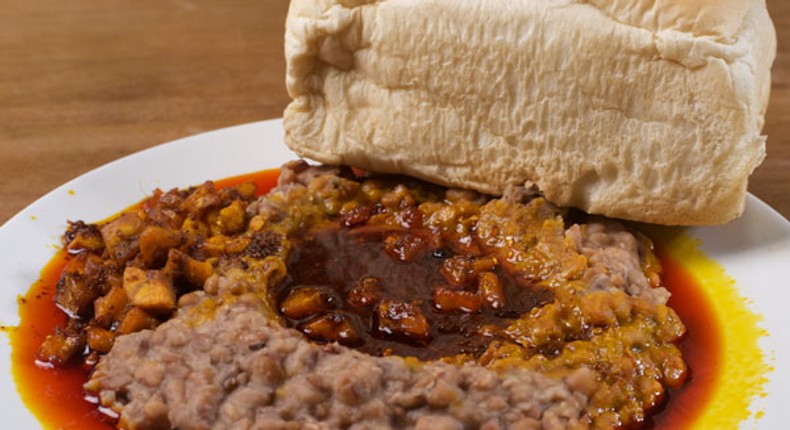 The rituals extended to the foods we ate or cooked during the weekends.
Sundays were known for jollof rice and in some households pounded yam and egusi soup. Saturday mornings came with special meals, especially after house chores.
Akara and pap
This is made from fried beans paste. Most times it is not prepared at home, you could buy it down the street. Pap is made from condensed millet and taken with sugar and milk.
Moi Moi and pap
Pulse Nigeria
A variation of bean paste with eggs, fish and crayfish. This variation of beans paste is boiled and takes a longer time to get ready.
Personally, I hated Moi Moi on Saturday mornings because of how long it took to make it, especially after house chores when you are tired.
Bread and tea
Pulse Nigeria
A very common breakfast staple. Eggs are added to it sometimes. The tea is usually from the brand Milo or Bournvita. We all had siblings who cut bread into pieces and soaked it in the tea or you were that sibling.
Ewa Agoyin (Beans) and soft bread
Pulse Nigeria
Your mom could prepare beans, and you eat it with bread, but the best were the ones bought along the road.
Masa and soup
Pulse Nigeria
Masa is small balls of fried corn flour. This is popular among those who lived in the North. The soup used to make the Masa was always so delicious and never really enough.
What other meals did you enjoy on a Saturday morning growing up?
JOIN OUR PULSE COMMUNITY!
Recommended articles
Winter is Coming: Surviving Harmattan 101
5 weird food combinations every Nigerian should try
Lies they told us about adulthood while growing up
Food recipes you should try out this festive period
6 common things men do when they love you
7 reasons why you're still single
Can dating a divorced man work?
Who died and made you 'God'?
Natural Hair Girl: Natural hairstyles to make in under an hour