Foremost fashion week unveils new headline partner, calls for Fashion Focus application
Lagos Fashion & Design Week unveils new headline partner for 2015, opens application for 'Fashion Focus'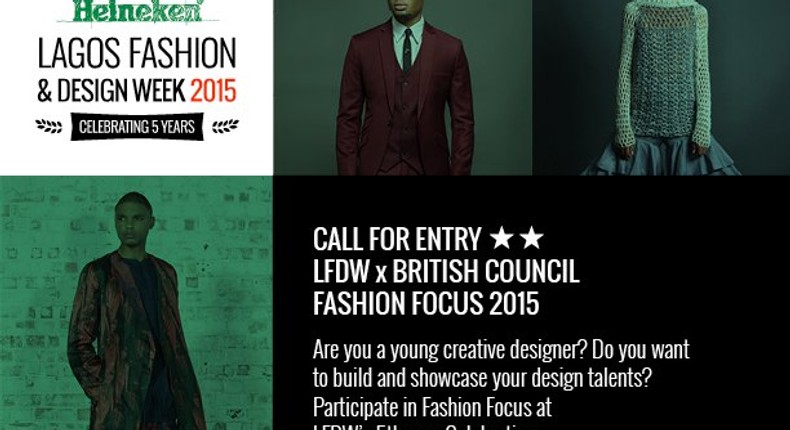 Lagos Fashion Design Week has unveiled Heineken as their new headline partner and calls for 'Fashion Focus' applications for her 2015 edition.
The popular fashion week, over the last five years, have promoted the Nigerian fashion industry and provided a platform to showcase talents while giving them constant international exposure.
Easily the biggest fashion week in Africa at the moment, the Lagos Fashion and Design Week (LFDW) is officially set to begin a new partnership with Heinekan starting with the 2015 edition.
As the LFDW platform also prepares for its five year anniversary scheduled for October 28th to October 31st 2015, activities have kicked off with a call for entries for LFDW Fashion Focus.
Fashion Focus is a collaboration between Heineken, LFDW, and the British Council that is supported by Fashion School Istituto Marangoni and Grey Velvet Nigeria. It is a year long initiative with a vision to fine tune the existing Heineken/LFDW strategy to support the professional development of emerging fashion talent in Nigeria.
Fashion Focus will scout for, support, and develop emerging creative talent that can stimulate the growth of Nigeria's fashion industry. This is in sync with British Council's ongoing work to develop innovative, high-quality events and collaborations that link artists and cultural institutions in Nigeria with their counterparts in the UK.
LFDW Fashion Focus offers fashion designers opportunities to be participants at targeted workshops and networking sessions between 2015 and 2016, as well as a chance to exhibit their collection at Heineken LFDW 2015.
LFDW 2014 Fashion Focus Finalist, Temitayo Ilesanmi Nathan was invited to present his work at the British Council X British Fashion Council's International Fashion Showcase 2015 at London Fashion Week earlier on in the year. He summarises his LFDW Fashion Focus experience as a "defining moment for my brand and me as its Creative Director. Being privileged to showcase alongside other talented designers at the International Fashion Showcase London was a major eye opener for me.   I now see the fashion industry in a totally different light – as a platform for creative expression as well as wealth creation"
Omoyemi Akerele, Executive Director and Founder Lagos Fashion and Design Week acknowledged the synergy between Heineken's passion for design and the LFDW vision. She revealed, "At the heart of the Lagos Fashion and Design Week platform is the fundamental vision to position Lagos as a global destination for Africa's finest fashion design talents. Through LFDW, they present their collections, grow their fashion businesses and contribute to the sustainability of Nigeria's Creative Economy".
Heineken LFDW sponsors Maybelline and Fayrouz will lend their continued support to the fashion event, as the brands continue to be positioned as stakeholders in Nigeria's rapidly evolving fashion industry.
Catch a video from the last fashion week below.
JOIN OUR PULSE COMMUNITY!
Recommended articles
5 benefits of using tomato juice as facial scrub
How dangerous are blue balls?
Enjoy sweet chills with the new Domino's Sweet Chilli Chicken Pizza
5 quick and healthy breakfast ideas for a busy morning
3 home remedies for tooth decay and cavities
5 lonely but relatable adult activities
African deities: Who is goddess Oya?
Pawpaw: The health benefits of this fruit will blow your mind
20 lucky kids rewarded with N4m in UBA Kiddies and Teens Draw