Meet 4 Nigerians clothing Blac Chyna, Nicki Minaj the African way
With top celebrities like Blac Chyna, Nicki Minaj, Remy Ma, Monica Brown and more donning their designs Dashiki Pride is set to make African aesthetics a strong global one.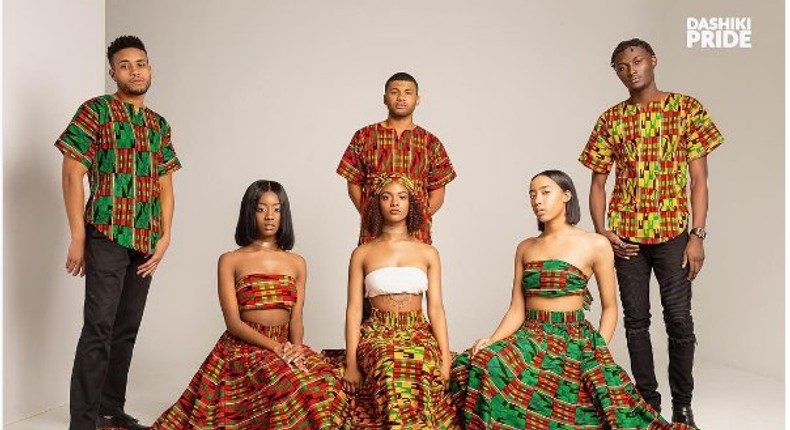 With top celebrities like
The budding entrepreneurs in their twenties stopped at the Pulse Nigeria office to talk about their fast growing brand and all the promises the fashion industry holds for their Afrocentric brand that's become a favourite amongst top celebrities.
The fashion brand owned by Nigeria born siblings Lilian, Mirian, Marysonia and Vincent Ugokwe launched the brand in 2014 out of their love for unique African print pieces.
After just a few years of launching the brand, the budding fashion entrepreneurs were contacted by singer Monica Brown who has remained a firm muse for the brand who plans to expand in the nearest future into accessories and home and interior living set against an African theme.
Mirian co-founder of the clothing brand who came up with the brand name shares that their background in Aba where they were born and having a mother who was a fashion entrepreneur helped the business immensely sharing that all their lives, they've been "around clothes growing up".
The big break for the brand came when Blac Chyna was seen on an episode of 'Rob & Chyna' reality show on E! wearing a piece off their collection shortly before she gave birth giving the brand major publicity. Co-founder Marysonia shares that the moment was surreal and at the same time one of the most memorable for the brand.
Looking to see their pieces on Beyonce, Rihanna and Drake in the nearest future, the entrepreneurs who created the 'Afrocentric Emoji'- 'Afreekmoji' app all in their 20's look forward to dominate the world one Afrocentric look at a time.
Look out for the full Pulse interview with them.
JOIN OUR PULSE COMMUNITY!
Recommended articles
5 benefits of using moisturizers
7 deadliest water bodies on Earth
Yellow Dot CEO, Olubukola Bolarinde to celebrate African heritage in solo art exhibition
Meet the African tribe that offers s*x to guests
7 best foods to eat for more breast milk
Why is it difficult for men to forgive when women cheat?
Why women lie about their virginity in relationships
3 easy ways you can make money on Instagram
5 money talks to have with your partner before your wedding day