Port Harcourt N100K winners celebrated in style
Last weekend, the Guinness team made a stop at the Garden City of Port Harcourt to celebrate its 100k winners.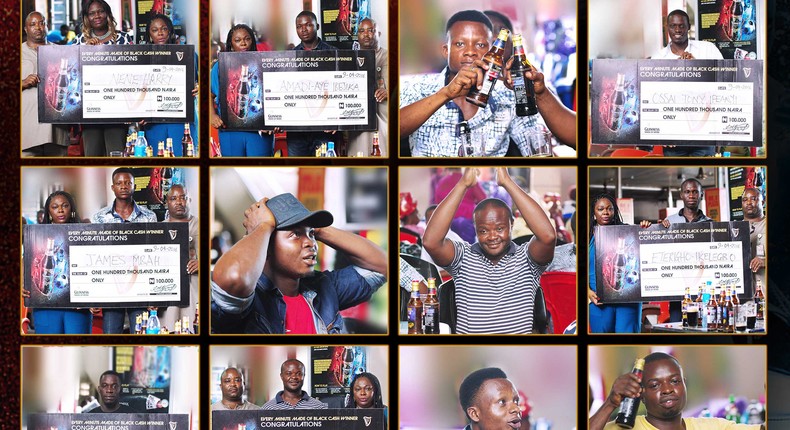 Guinness Football Promotion is living up to its promise to create amazing football viewing experiences throughout this BPL season.
The venue was Mr. D. Plaza located at 2, Obite Street. D Line PH. It was indeed an evening of exceptional football experience when the 100k winners were treated to an exclusive treat while they watched the epic match between West Ham and Arsenal which ended 3–3.
The winners couldn't hold back their excitement as they recounted their winning experiences; "Every time I open another crown cork to play, my colleagues find a new way to scorn and laugh at me, after I won N100,000, they are now playing more passionately than me", Okonkwo Uche.
"I think that I am the luckiest winner, I won on my very first attempt and since then nothing has been more exciting", Christopher James.
"The N100k was a blessing for my husband and I, as we were planning to pay for my new shop and also time pay our daughter's school fee but at the time we were only financially able handle one then I got a call that I won a 100K", Nene Harry.
Other football fans and Guinness lovers present at the event were not left out of the awesome experience as they won loads of instant free airtime just by participating in the promo while some won N1,000 for goals scored on their minute.
If you haven't participated then you are missing out big time, the numbers are increasing and you can't afford to miss out on this. Over 1 million airtime winners have emerged and more than a half a million people have won N100,000 each.
Still wondering what to do? Just buy a bottle of Guinness, text the unique code under your crown cork with the team name you think will score on your minute to 1759. If a goal is scored on that minute, you will win N1k instantly and your entry will also automatically qualify you for a weekly draw where you stand a chance to win N100, 000 weekly. And every single entry wins free airtime just for playing!!!
Remember you must be 18 years and above to participate in the promo. Drink responsibly.
This is a feature by Guinness Nigeria.
JOIN OUR PULSE COMMUNITY!
Recommended articles
For women: 4 foreplay tips to drive men wild
5 people share awful and sometimes funny things their bosses have said to them
Ramadan: Six facts about the holy month for non-muslims
These are 5 top signs of fake love in a relationship
5 interesting health benefits of Agbalumo (African star apple)
The best 5 cities in Nigeria
The oldest woman ever to be on a Vogue magazine cover is a Filipino tattoo artist
Why your body suffers when you don't have regular s*x
6 reasons your nipples hurt
5 celebs with face cards that never declines and their makeup techniques
Chicken vs Turkey: Here are 3 nutritional differences
Is less actually more? Five benefits of a more minimalist life
Manchester United identify Portuguese goal-machine Goncalo Ramosas Osimhen alternative
Giannis Antetokounmpo outshines Jordan Nwora as Bucks set record against Pacers
NPFL Review: Rangers continue to flirt with relegation, 3SC vs Plateau produce another classic
Arsenal reach first Champions League semi-final in 9 years with victory over Bayern