Face sheet to get rid of tired eyes? Try Purederm Age Defying Eye Gel Mask
I tried the Purederm Age Defying Eye Gel Mask and the result was incredible! If you want your eyes to come alive instantly read on...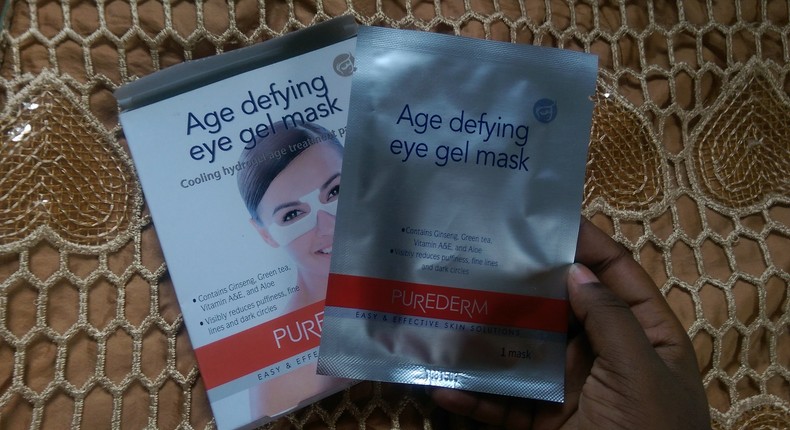 Now I am some sort of a lazy head when it comes to taking out time to go to the spa or getting 'serious' treatment for my skin and because I love it (facial skin) clean and clear, I take out time to do what I can to make it stay that way from the comfort of my home.
I picked up the eye mask from a beauty store recently and I have used it over time especially when I need my undereye skin to come alive fast!
Specially formulated for reducing fine lines and wrinkles around the eyes with constant use, it also works for dark circles and undereye bags giving almost immediate results!
The product is presented in a paper pack that contains the satchel that holds the mask, I bought this pack of two (I think I bought like five, making it a total of ten eye masks I used in all).
The mask is a cooling "hydrogel age treatment patch" which is felt as soon as it's laid on the skin with a feel of 'something cool penetrating the skin'. It comes low maintenance as you just peel and use and comes with no irritation at all.
Ingredients listed for the mask include ginseng, green tea, Vitamin A& E and Aloe which are ace beauty components for youthful looking skin!
Looking to keep the eyes alive in a short while (actually while you get ready to go out) then this is one of the best things to own and at way less than N2,000 for two sheet masks that's a pretty impressive buy!
Visibly reduces undereye/dark circles, puffiness, fine lines in a few minutes
Cooling effect that leaves the skin feeling and looking fresh
Affordable (worth even more)
JOIN OUR PULSE COMMUNITY!
Recommended articles
What exactly does a side chick do better than a main chick?
Fun ways to celebrate Christmas this year
Is living together before marriage good or bad?
See the countries where Nigerian Languages can actually come in handy
Want to japa in 2022? These 3 travel tips will guide you!
Why girls of the Mursi tribe must remove their teeth and stretch their lips before they marry
Ladies! Here's one major reason why guys suddenly stop showing interest in you after some time
Sugarcane: The health benefits of this plant will leave you speechless
Coconut Oil: Surprising side effects that you probably didn't know about