Here's how to reapply sunscreen while wearing makeup
Sunscreen is your skin's ultimate bae, and you can reapply it while wearing your makeup.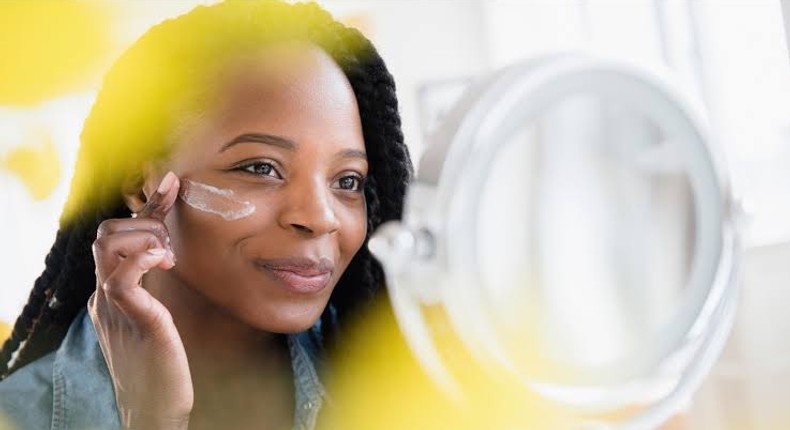 The importance of applying sunscreen can never be overemphasized, especially during the dry season and on sunny days.
With the recent ban placed on motorcycles and 'keke napep' on some roads in Lagos, most people result in trekking. This automatically means you'll be spending sometime in the sun than usual. Save your skin the stress by protecting it from sunburn with sunscreen. Dermatologists and skincare experts recommend that sunscreen should be applied every two hours, but how will you be able to do is when you already have your makeup on.
Most ladies wouldn't want to ruin their makeup all in the name of applying sunscreen. It's okay to apply it before using your makeup but issues come up when you want to reapply it. Reapplying sunscreen to a made-up face is definitely going to ruin the makeup right?
You don't need to bother your pretty head about how you'll solve that. Today's article will give you the tips you need to reapply sunscreen without ruining your makeup.
1. Use a compact powder with SPF
If you are not a big fan of powders and creams because you worry too much about spillage, you can go for a compact powder. There are plenty of options available for compact powders with SPF. Always pick one that offers broad-spectrum sun protection and is water-resistant.
2. Brush some powder over your face
Huffpost
A powder sunscreen comes handy when you are in no mood to smear your makeup. Take some powder sunscreen on a big makeup brush and sweep it all over your face and neck. Sunscreen powders are mostly water-resistant and give you a picture-perfect makeup look. These powders can control facial oil and are good for humid days.
3. Spray sunscreen for face over makeup
Since you applied sunscreen on your face before applying your makeup, spray sunscreen is a convenient option. Although, it doesn't give as much coverage as lotions and creams. You need to spray it generously to make sure the sunscreen has covered every inch of your face and neck. Do not touch your face until it dries.
Another option is applying a makeup setting spray with SPF. Spray it on your face and wait for it to dry. Top it with some loose powder.
JOIN OUR PULSE COMMUNITY!
Recommended articles
3 celebrity looks inspired by Rihanna's pregnancy fashion
Check out StarTimes 2022 price and never-to-miss shows
5 African dishes to celebrate Africa Day 2022
5 most fashionable ways to wear palazzo pants
5 people that can ruin your relationship
This unusual dish is a legendary delicacy in Ghana
Loneliness may be due to mental health condition - 9mobile Health Talk Series reveals
Why Lagos restaurants are ridiculously overpriced
The beauty benefits of cucumber you didn't about