5 ways to care for your feet at all times
The sandal trend is going strong, especially the gladiator sandal. To pull it off right you need to have good feet to show off. Thus, here are five ways to take care of your feet.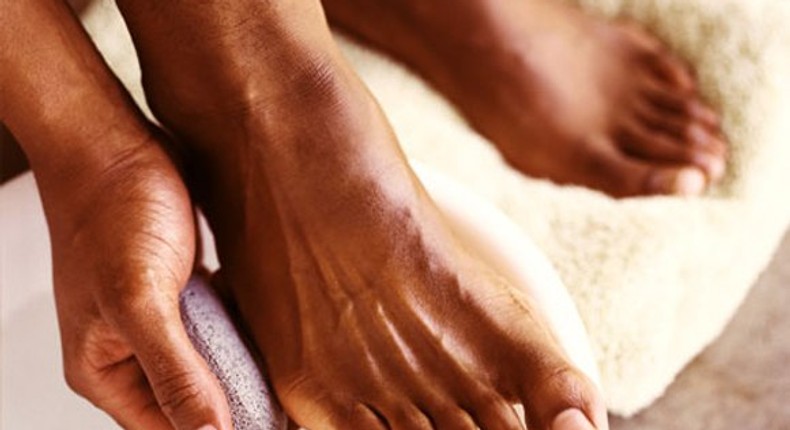 Aside from the risk of getting scrapes and cuts when you walk barefooted, there is also the risk of contacting all sorts of dangerous bacteria that can endanger your health. Endeavour to always wear a pair of shoes.
So it very possible that as you commute to work on foot, rain starts to fall and you just have to keep going, with your shoes wet. If you find yourself in that position, immediately take off your shoes and socks the chance you get to dry them and avoid cold and bacteria.
The feet are often neglected in the sunscreen game. However, always remember to use sunscreen on your feet, as they get exposed too and they desrve some level of care as well.
Water is good for your overall health and wellness and keeps your feet from swelling. It is also what keeps your feet moisturized on the inside. On the outside you can use all kinds of lotions and creams.
Anything can actually happen when you are out and about. Unforeseen events are not far fetched so make sure to treat things immediately so they don't become permanent problems in the long run.
JOIN OUR PULSE COMMUNITY!
Recommended articles
5 reassurances your girlfriend needs to hear regularly
Here are 7 foods you need to eat for increased sexual stamina
Retirement Benefits: 5 reasons people still have sex with their exes
The Jumia Food Festival is another avenue to enjoy convenience and affordability
5 best post-show outfits from recent Big Brother Naija housemates
What is Mewing: The TikTok trend that helps you improve your jawline
5 cultural abominations in Igbo land
Kunle Afolayan's 'Anikulapo' inspired us to explore ancient Yoruba attires
The history of the Ojuelegba area in Lagos
Get our Top Stories delivered to your inbox