5 reasons for sudden absence of purchasing ability (sapa)
Why the unexpected shortage of cash even after payday?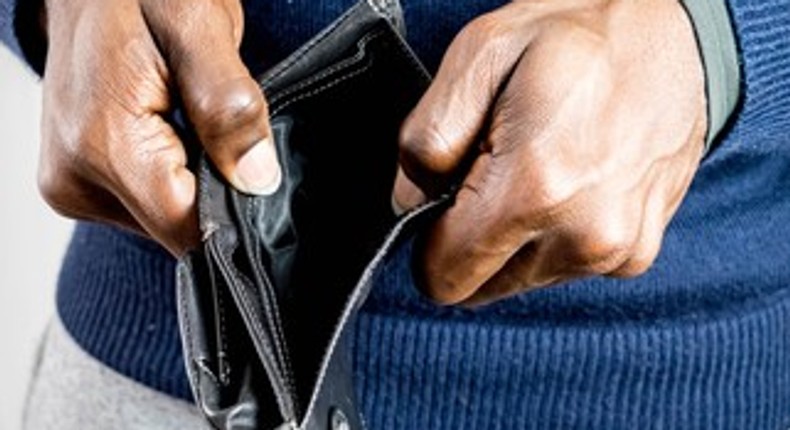 For young Nigerians, once salary enters their accounts, it is followed by a long string of debits.
A popular lingo is 'sapa' meaning 'sudden absence of purchasing ability' and with the rate of inflation, sapa is becoming an everyday term.
Running out of cash is sometimes unexpected, you budget and plan, but you are still faced with an unexpected shortage of cash.
Here are five unexpected causes of sapa
1. Aso-Ebi
More young people in their 20s and 30s are getting married and there comes the horsemen of weddings, Aso-Ebi.
Sometimes, you have to travel to attend a friend's wedding. When you add the money for transportation, the Aso-Ebi lace, shoes, wig and makeup, you wonder if you have a stake or majority share in their marriage.
2. Family emergencies
This is a very knotty one. Here you are cruising through your month and suddenly a call from home, they need money for this or that. You feel obligated to send money home.
Interestingly, the few people I spoke to found it difficult to send money home; Nnamdi said; "Can't send what you don't have. I don't have sendable funds."
Pamela had a budget for the month but her Aunty called her to add money for rent to be complete. She had put money aside for her school fees but she had to dip into that. "I need to save for emergencies. I know she really needs the money, I can't say no." She says.
But let's say a family member is sick or a younger one has to go to school. All eyes might be on you to provide, and that leads to sapa.
3. Home and car repairs
Here you have budgeted for the month, and suddenly your roof is leaking, a pipe is broken, electricity isn't coming into your house, a fuse burnt, and you have to start calling the repairman. That is a sure path to sapa.
For those who have cars, one car issue can wipe everything in your account until there is nothing left.
4. Going out with friends
A night out with friends can have you spending more than you budgeted for, perhaps you said; "Let's go out, problem no dey finish."
You kept ordering food and drinks because you want to have a good time, but your account balance was seriously depleting.
Sometimes, the best thing to do is stay home because there is rice there.
5. Eating out
You are too lazy to cook so you keep ordering out. In a day, you've spent more than N10,000 already buying breakfast, lunch and dinner from fast food outlets.
If you have the money , there is nothing wrong with spending it.
Although these might lead to unexpected sapa but it is a testament to how devalued the naira is and how bad inflation has hit the country.
JOIN OUR PULSE COMMUNITY!
Recommended articles
Avocado: The health benefits of this fruit are priceless
Africa Day 2022 addresses nutrition and food security
5 alternatives for women who hate wearing bras
Khalil Halilu - The industrialist creating a foundation for Nigerian entrepreneurs to thrive and compete globally
Bisi Is The Boss: The book every child needs to have on personal safety, body ownership and boundaries
3 reasons why s*xting is needed in your relationship
7 things every woman wants to hear during s*x
5 ways to relieve a stomach ulcer at home using natural remedies
3 home remedies for tooth decay and cavities