On Saturday, May 19, 2018, Prince Harry and Meghan Markle tied the knot, making her the new Duchess of Sussex and the latest member of the British royal family.
Social media was buzzing with conversations around the wedding, ranging from comments on her make-up to the feminist implications of her marriage.
What could they have been talking about?
Meghan Markle's makeup
Meghan's makeup was one of the most talked about topics on Saturday, May 19, 2018, as she transformed into the Duchess of Sussex after her wedding.
Looking natural and almost appearing makeup-free, a makeup expert says Meghan's makeup was an extension of her belief in women's empowerment.
A UK makeup expert said that aside from the obvious fact that Meghan's look was a bold choice by opting for minimal cosmetics, it was the epitome of modernity.
The beauty expert says Meghan took it on to another level. And African women, who had the discussion about her makeup on social media couldn't agree less.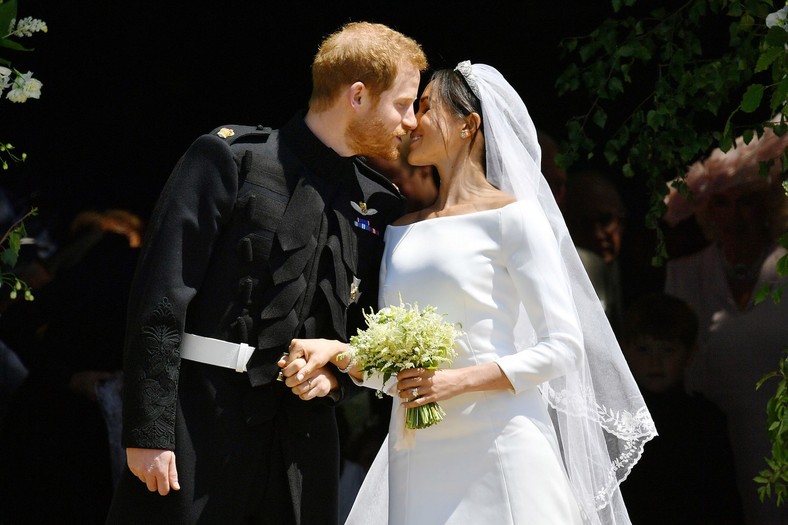 The fairytale wedding
For many African women, a fairytale wedding is mostly a dream and wish that rarely comes true.
Witnessing the fairytale wedding of the Duke and Duchess of Sussex has inspired many African females aspiring to have such wedding that it's not totally impossible.
From her wedding gown to the aquamarine ring and E-type Jaguar car, young African females couldn't resist the urge to talk about having a wedding similar to Meghan's.
ALSO READ: The unbelievable coincidence between 2 royal weddings, Liverpool and Malaysia in 37 years
The feminist connotations, or lack thereof, of her marriage
Another reason Meghan's royal wedding was the topic for discourse was her resolve to retire from acting.
For a lady with a flourishing career, the fact that she is dumping her acting career to become a part of the British royal family was a topic of discussion. The question is, what it feminist or anti-feminism? Or, better yet, does it even have anything to do with feminism.
Meghan's decision was quickly linked to that of her grand-father-in-law and Duke of Edinburgh, Prince Phillip, who had hoped to enjoy a high-profile role in the Royal Navy before he settled into his duties with Queen Elizabeth.
And for over 70-years, Prince Phillip has managed to remain by the Queen's side in a supporting role until he resigned from some of his official duties.
So, Meghan walking away from her acting career is less of a gender issues and more a requirement of aristocracy.
In an interview with the BBC in November 2017, Meghan has said that she's excited to focus more on humanitarian causes in her new role as princess.
"I don't see it as giving anything up, I just see it as a change. It's a new chapter," she said.
Aspirations and dreams
Meghan's previous status as a commoner and, now, marrying into the British royal family is reminiscent of the hopes many African parents have for their daughters.
Many of them, especially those in the lower and middle classes, aspire for their daughters to marry into wealthy families. The fact that Meghan achieved this feat makes the royal wedding an even more interesting topic of discussion.
Africa's love for big weddings
Africans are generally lovers of big weddings - societal weddings. The royal wedding was nothing short of humongous, with a $45 million budget. In Nigeria, for example, the wedding industry is over $1 billion large, according to CNN, making it one of the most lucrative industries in Africa.
The caliber of individuals that attended the strictly by invitation wedding was a source of inspiration for many Africans that aspire to have a life similar to Meghan Markle's.