Afro-Trap king announces #odanamaniacs for fans
AfroTrap King Kach (real name Uche Kachikwu) signed to Signature Records is a graduate of Business Administration from the University of Bath, UK.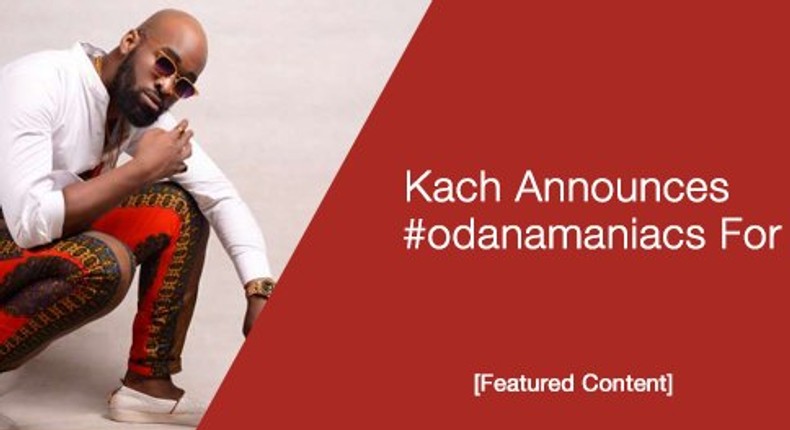 Kach who made his debut in May 2014 with the release of a mix-tape titled '
As ' trended across major radio and TV stations and was rated among the top songs of 2014 for its creativity, production and appeal.
His third work '' produced by Adey went on to become a massive success, making it to the 'Top 10 African Videos Chart on Trace TV' and other music chart shows.
2016 saw the stellar act make a grand entrance with a widely embraced Afro-trap tune titled '' featuring Pablo and Marelli with an intriguing visual that left viewers entertained. Within a space of time, the tune has turned into an anthem among music enthusiast.
Currently under the handling of Thunderbolt Management, the soft spoken talent has decided to give back to his teeming fans with a different kind of give-away treat via social media Instagram.
The give-away competition which is not the common place type of competition is tagged #odanamaniacs and requests his fans and Afro-Trap lovers to download the instrumental of 'Odana' via https://soundcloud.com/thunderboltmgt/odana-beat/s-aWm1t and make a two minute freestyle video of themselves singing/rapping to the song but with the original chorus, upload it on their Instagram handles with the hashtag #odanamaniacs and mention @kachofficial for a repost.
The video with the most creative content which would be determined by Kach, gets to win $1000 plus a special shout-out mention by Kach himself.
Enjoy the new classy photoshoot by the Afro-Trap King and do not forget to be creative in the contest for a chance to becoming a favorite fan of Afro-Trap genre crooner Kach.
This is a feature by Kach.
JOIN OUR PULSE COMMUNITY!
Recommended articles
The Crown Princess of Spain has a crush on Barcelona star Gavi
Fairytale bride: The 3 dresses Rita Dominic wore on her wedding day in detail
Fraudster k*lls his girlfriend, hides her body over the money client paid to her
'The Nation first and forever' - Onana speaks out after being exiled from Cameroon national team
See the 15 African countries that have agreed to merge their aviation industries
Lady jumps into Lagos lagoon over a misunderstanding with her fiancé
BREAKING: FG files new charge against Nnamdi Kanu
If you have dark lips try these 2 natural remedies
Labour Party's women leader assassinated in Kaduna State