International donors on Wednesday pledged $4.4 billion in aid for civilians caught up in the Syrian civil war -- well short of what the UN says is needed for humanitarian work in Syria and neighbouring countries.
The sum committed at a two-day conference in Brussels was less than half of the $9 billion the United Nations says is needed this year to help those in need inside Syria and living as refugees in neighbouring countries.
The head of the UN aid agency UNOCHA called the $4.4 billion "a good start" but a group of nine international aid organisations said the conference "did not go nearly far enough".
"My best guess is that by the end of the day we will have heard pledges for 2018 of $4.4 billion," Mark Lowcock, the head of UNOCHA, told a news conference.
He added that pledges of a further $3.3 billion for 2019 and after were expected at the conference, attended by more than 80 countries, aid groups and agencies.
Britain announced 450 million pounds ($630 million, 515 million euros) for 2018 and another 300 million pounds for 2019, while Germany said it would donate more than a billion euros and the EU pledged some 560 milllion euros.
But several major donors including the United States have not yet confirmed their pledges, Lowcock said, because of ongoing internal budget wrangling.
'Not nearly far enough'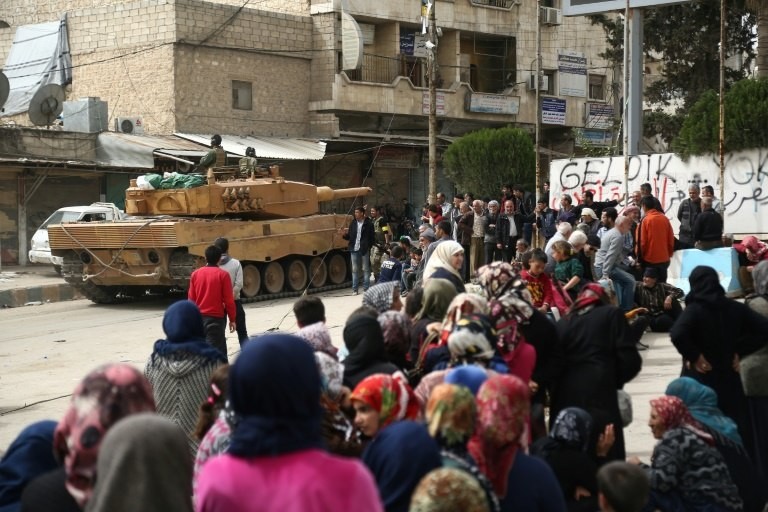 Lowcock earlier told AFP he hoped to see $8 billion pledged on Wednesday, warning that funds were "desperately short" and some programmes may need to be cut if money was not found.
The figure was also well short of the $6 billion pledged at last year's Brussels gathering, and a group of nine NGOs including Oxfam, Save the Children and the Norwegian Refugee Council issued a joint statement to voice their alarm.
"This conference did not go nearly far enough to provide adequate support to the millions of Syrians in need of assistance and who are left facing an uncertain future," they said.
Some 6.1 million people are now internally displaced in Syria, more than five million have fled the country and 13 million including six million children are in need of aid, according to the UN.
More than 700,000 people have been displaced since the start of this year alone as Assad has stepped up his offensive against rebel forces, intensifying the humanitarian crisis.
UN Syria envoy Staffan de Mistura on Tuesday urged the international community not to allow a new humanitarian catastrophe to unfold in the rebel-held northwestern province of Idlib, on the Turkish border, which has seen a massive influx of people fleeing the conflict.
Struggling peace talks
Europe hoped to use the conference to reinvigorate the faltering UN-led peace process in Geneva, but it was not clear how effective the push was.
EU diplomatic chief Federica Mogherini urged Moscow and Tehran, Syrian President Bashar al-Assad's key supporters, to help bring him to the negotiating table, saying they had a duty to help wind down the war, now in its eighth year.
"We need in particular Russia, Iran to exercise pressure on Damascus so that it accepts to sit at the table under UN auspices," Mogherini said as she arrived for the gathering, the seventh of its kind.
"We believe that the only sustainable peace for Syria will be linked to a political process under UN auspices."
Damascus has shunned the Geneva talks and Russia, Iran and Turkey launched a rival process in the Kazakh capital Astana last year.
Moscow was represented at the conference by its ambassador to the EU Vladimir Chizhov, who gave a scathing assessment of the event in his address to the other delegates.
"I am perplexed by the format of today's meeting that does not include official representatives of the Syrian government," he said, according to a text released by the Russian embassy.
He accused countries maintaining sanctions on Syria -- which includes all 28 EU members and the United States -- of "suffocating the Syrian people".