Native doctor, 3 others kill hunchback for money rituals
A native doctor and three of his accomplices have been arrested for allegedly killing a 62-year-old hunchback for money rituals.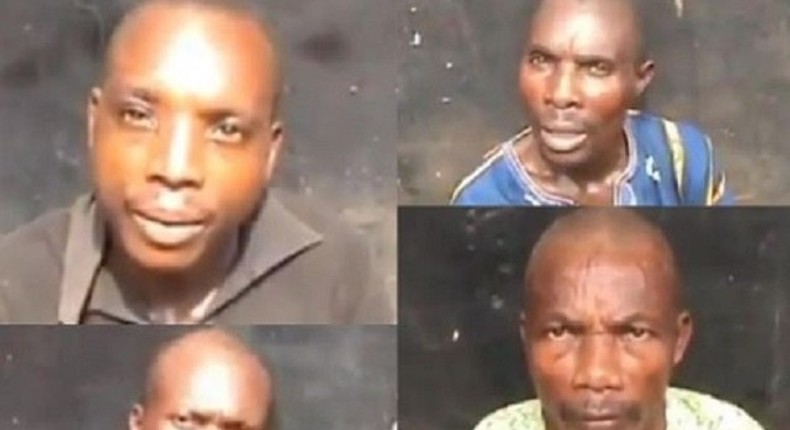 The News reports that the 62-year-old hunchback was murdered by the suspects at Arue Village in Edo State by Peter who lived in the same community with him and took the hunch to Ogeneka who lives in Ondo State.
While parading the suspects, the Edo State Commissioner of Police, Haliru Gwandu, said the first suspect to be arrested was Aluma who was mandated to take the hunch and other body parts to Ogeneka, during a stop and search operation by the police at Sabongida-Ora, in Owan West Local Government Area of the state.
It was the arrest of Aluma that led to the arrest of his conspirators including the native doctor.
Speaking when they were paraded, the suspects said that poverty drove them to look for where to make quick money.
Aluma who said he lives in the same village with the victim claimed that it was Peter that killed the hunchback.
On his part, Peter said he told the victim to accompany him to the farm where he strangled him and cut off the hunch and gave it to Aluma who placed it inside a pot of honey for preservation before they were arrested.
However, the native doctor denied asking the men to bring a hunch back for money rituals, saying he only told them he heard from his father that there were some persons that could carry out the act in Ife.
JOIN OUR PULSE COMMUNITY!
Recommended articles
Twerking Wendy Shay threatens to snatch someone's man with her slim waist in 'wild' video
4 side effects of being a virgin for too long, according to research
Doctor and nurse suspended for having sex, moaning and disturbing patients who're in pain
Police save little boy who hid inside aeroplane's engine to travel abroad (video)
For men: 5 foods that can help you stay erect and sustain stronger erection
Women, this is why you should learn to initiate sex more in your relationship
6 symptoms of stomach ulcer
Ayisha Modi goes naked on IG as she flaunts her newly 'acquired' body (VIDEO)
You should not do any of these while visiting the Oba's palace in Benin