Ex-convict arrested for robbing Portuguese couple in Lagos
Weeks after he was released from prison, an ex-convict is going back for the same offence.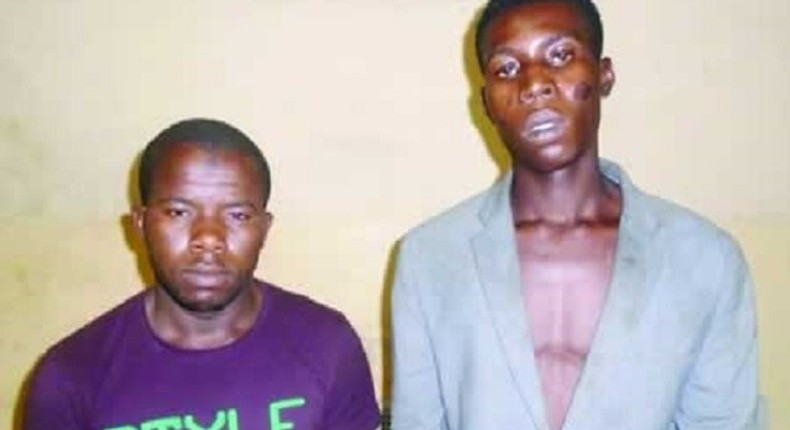 After spending some months in prison for a
Meme, a 22-year-old Delta State indigene, and another man, were nabbed on Saturday, June, 11, after allegedly robbed the couple and the occupant of another car in traffic at the Marine Bridge, Ijora area of the state, leaving the couple hospitalized after the attack.
The suspect, a metal scrap collector who was released just in April, in his confessional statement to the police after his arrest, said they were six in the gang, adding that four of the members had, at one time, served different jail terms at the Kirikiri Prisons where they met.
"We are six in my gang. Four of us were in Kirikiri Prisons and they are Gbenga, Imele, Tontolo and Lateef. I just came back from Kirikiri, where I spent three months.
We rob any vehicle where the occupants are busy with phones. We start our operation around 8pm.
My plan that night was to operate alone. As I was planning to strike, I ran into my friend, Wasiu, who taught me how to rob. We decided to rob cars together that night. At that time, there was traffic jam, which had extended to the Marine Bridge.
During the operation, we opted for a Toyota SUV. The occupants were whites, and I guessed they were husband and wife. Wasiu and I positioned on each side of the car and we broke the two rear glasses.
I collected the man's phone, while Wasiu took his wife's phone and purse containing N60,000. The lady pleaded for her drug from the purse and I asked my colleague to give it to her; then we left for another car.
The next car in front was a Toyota Corolla, with a lone occupant. We broke the two side glasses too but the lady insisted she had no phone but we collected her bag and jewellery.
Wasiu taught me how to rob in traffic and I have mastered the act. I operate alone. Occasionally, when I run into like minds, we robbed whenever there is traffic in Marine Bridge. We sleep under Ijora Bridge and we are many there."
The State Police Public Relations Officer (PPRO), SP Dolapo Badmos, confirmed the incident.
"The case is confirmed. The suspects have been transferred to the Special Anti-Robbery Squad for further investigations. There will be no hiding place for robbers in the state."
JOIN OUR PULSE COMMUNITY!
Recommended articles
The Crown Princess of Spain has a crush on Barcelona star Gavi
Fairytale bride: The 3 dresses Rita Dominic wore on her wedding day in detail
Fraudster k*lls his girlfriend, hides her body over the money client paid to her
'The Nation first and forever' - Onana speaks out after being exiled from Cameroon national team
See the 15 African countries that have agreed to merge their aviation industries
Lady jumps into Lagos lagoon over a misunderstanding with her fiancé
BREAKING: FG files new charge against Nnamdi Kanu
If you have dark lips try these 2 natural remedies
Labour Party's women leader assassinated in Kaduna State