The story of this banker turned 'Puff-Puff' seller will sure motivate someone
A young banker who lost his well paying job decided to go into frying and selling of Puff-Puff and is proud of it.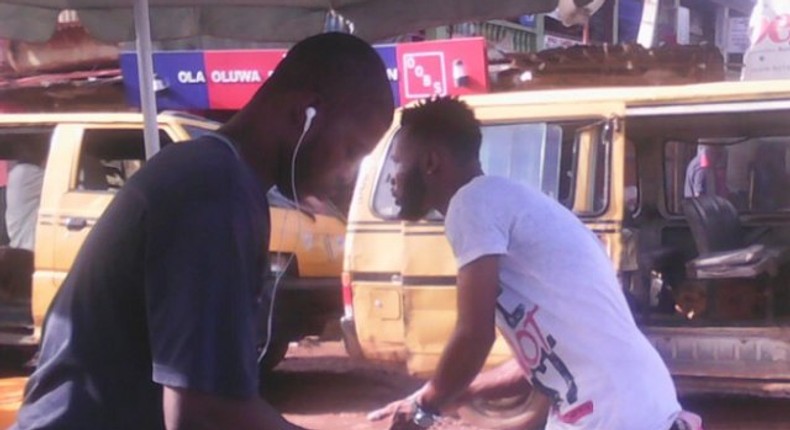 He decided to take his destiny into his own hands and resort to frying and selling the popular snack popularly called 'Puff-Puff' (a traditional African snack similar to a doughnut, made of dough containing flour, yeast, sugar, butter, salt, water and eggs and deep fried in vegetable oil until golden brown -Wikipedia), and today, he calls the shots with his business, A & B Concepts, with several workers under him.
Many who live or do businesses around Igando area of Lagos State, must have seen and patronized the young man who operates with his partner at Igando bus stop, and he says he is happy he veered into the business, which has seen him become a celebrity 'Puff-Puff' seller.
Johnson was interviewed by ThisDay Newspaper and this is what he said about his thriving business:
"Formerly, I worked with Intercontinental Bank PLC. That happened shortly; I lost the job when the bank got liquidated and everything went flat. But, as a man, you have to work and I can't see anything I can't do. So that was why I joined the new trend.
"This business has been on for the past 11 years; I met it in 2012, when I came to Lagos. I never went to school for it, I learnt it from my friends who were professionals in the business.
Although, some of them were younger than me in age then, but that never mattered to me, because all I wanted was for them to teach me how to fry and all other things involved, which they obliged and taught me, even without demanding I should pay money for the training.
So, since I joined, the business has been good; I don't have anything to regret. I'm not lacking any money.
I love the business. It's quite a profitable one. Of course, if it's not, this my team you see working here wouldn't have been here.
Because you can't just wake up early in morning, stay here till night without going home with something that is worth the time and you continue working.
I've good and reliable customers and we are very friendly to ourselves. Some of them come to buy for personal consumption. May be, they are hungry and need something to eat, so they would decide to go for snacks. They may not want to eat heavy food at that particular time.
We have people who buy it as appetiser; they're waiting for the main food and need something to keep them ready.
Even some take it as after-meal. You know some people like to take something immediately after their meal, not that they eat too much, but because it's something that they are used to.
We also have people who buy it for use at events; they want to use it to refresh their guests. Corporate organisations, like banks, do come to buy for their events, associations come as well, and those who are holding birthday parties, weddings and all such events patronize us too.
They know the quality of our snacks and the level of satisfaction they get after eating it and so have no better option than to come to us. So, on the whole, our customers cut across working class people, organisations, school children, bus drivers, okada riders and roadside traders and so on.
We work as a professional team. Everybody puts his best in the trade. With the combined efforts and contributions from all of us, we are able to make enough good sales and profits and we pay each other accordingly. It's a partnership kind of business.
To start up the business does not require one having millions. The minimum amount to start it could be within the range of N100, 000 and N120, 000, which I think is not that much compared to the amount of money people spend on drinks.
Anybody that is determined to save for it can do it without much stress, though, we all know that everything is going up right now.
So, for the basic things needed for it; flour must be there, which is the major raw material for the production. There should be burner, gas cylinder, the gas itself and some other things. You know without money, you can't make money.
Also, you need to have money to pay for space where you will stay to do the business. You can see where we are; we pay for it every year. This is Lagos and you know you can't run a business here without paying for the space you are using.
We love rainy season; that's when the business moves well. During rainy season, people will want to take something hot because of the coldness of the weather. They like it when it's hot to balance the body system. So during rainy season, the business is very lucrative because that's when we make more sales."
Everybody has a dream; if God blesses us beyond, we will move A & B Concept to a state where we will be happy to see it flourish and people will want to behold it."
JOIN OUR PULSE COMMUNITY!
Recommended articles
Beatrice and Boma face off in new BBNaija Reunion teaser
IPOB kills woman, 4 kids, 6 other northerners in Anambra
Why is the dollar shortage crisis in Africa getting worse by the day?
Top 10 happiest countries in Africa in 2022
Bolton's new 'Jay-Jay Okocha' wants to represent Nigeria ahead of England
Arsenal suffer a blow as Osimhen makes his transfer decision
Rubber producers present life crocodile to Obasanjo, say they can't give him money
10 African countries with the largest foreign exchange reserves
Here are the 5 worst cities to live in Africa, according to Economist Intelligence Unit report