'I don't see anything in tasting my own daughter' - Rapist Father
A mentally unbalanced father who was caught raping his daughter has defended himself by saying he has the right to do so.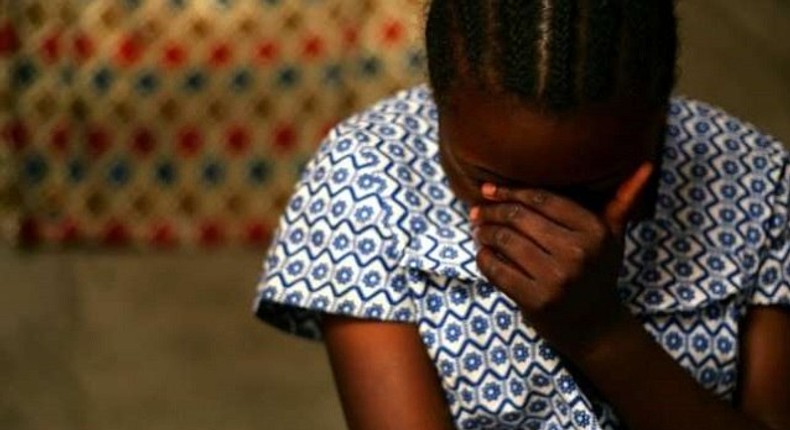 A man who was caught red-handed raping his 14-year-old daughter has justified his
The 48-year-old man, identified as Agyeman, is said to be a Ghanaian and lives in the Agbado-Oke-Aro area of Ogun State. According to residents of the rented house Agyeman lives with his three children, he was caught in the act on Monday, July 18, 2016, after neighbours heard the screams of the girl in their one room apartment and when the neighbours went to find out why the Junior Secondary School (JSS 2), girl who was supposed to be in school, they met her father on top of her.
A resident who narrated the incident, said:
" has been living in the yard for over 12 years but we do not know if he is possessed because at times, he behaved like a mad man. He is an all purpose labourer but most times, you will find him at 'ogogoro' (illicit gin) palours drinking to stupor.
His wife left him in 2008 and since then, he has been living with his children all alone. On that day, I was sleeping in my room because I came back from work in the morning, when I heard a fellow tenant, Iya Calabar, knocking on my door to come and help her find out why Adjoa was screaming in their room.
I went out immediately and met two other neighbours who were banging on Agyeman's door asking him to open but he refused. We actually thought he was beating his daughter because he is used to beating them mercilessly.
But when we heard the girl screaming that her daddy wanted to kill her, we had to break the door and what we found shocked all of us.
Agyeman was naked and having sex with his daughter. We had to force him off the small girl. Of course, we gave him some beating but what he said was a surprise to us all."
"He was saying that he had every right to have sex with his daughter, after all he was the one who gave birth to her and had been taking care of her. On interrogation, the girl said her father has been raping her since last year and had vowed to kill her if she ever told anyone.
Some youths in the area wanted to lynch him but they were prevailed upon by elders who saved him and took him away. We have reported the case to the police."
JOIN OUR PULSE COMMUNITY!
Recommended articles
Beatrice and Boma face off in new BBNaija Reunion teaser
Rubber producers present life crocodile to Obasanjo, say they can't give him money
Here are the 8 richest Africans in the UK in 2022, as revealed by the Sunday Times
Davido, Burna Boy, Wizkid, Olamide, other Afrobeats stars get 2022 Headies nominations
IPOB kills woman, 4 kids, 6 other northerners in Anambra
Terrorists threaten to starve and kill kidnapped Abuja-Kaduna train passengers
Why South Korea is the plastic surgery capital of the world
Lojay, Ruger, Zinoleesky, others nominated for Headies Next Rated Award 2022
Why is the dollar shortage crisis in Africa getting worse by the day?