Young boy's eyes plucked out by unknown men
A young boy will live the rest of life as a blind man after some ritualists plucked out his eyes.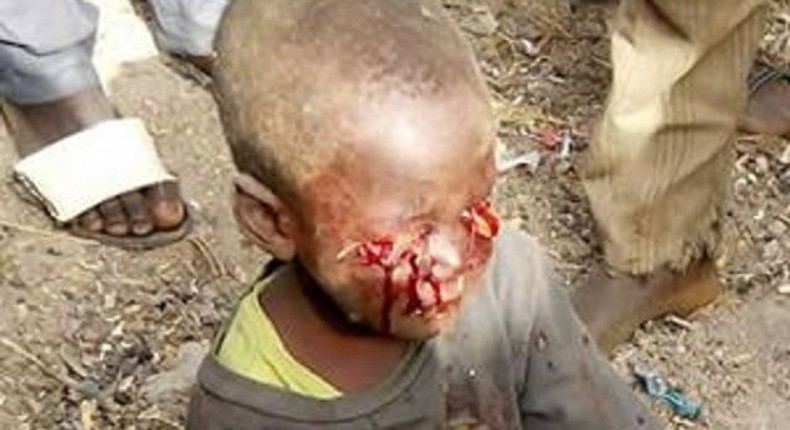 Some unknown evil assailants suspected to be ritualists have plucked out the eyes of a young boy in Zaria, Kaduna State.
According to a concerned citizen, Musa Saqafa, the sight of the poor boy with blood dripping from the eye sockets brought tears to many who saw him.
Posting on his Facebook page, Saqafa who wrote in Hausa, said:
"Oh Allah, we are begging you in the name of your son, deliver us from those we know and those we do not know.
This little boy's eyes were plucked by people who are by all means and in the most atrocious way, in Zaria.
Do not allow them to have peace of mind in this world. Let them meet their doom like in the days of Prophets Shuaibu, Salihu and that of Nuhu.
May you also heal this boy, give him good health and guide him, Amen."
JOIN OUR PULSE COMMUNITY!
Recommended articles
19-year-old girl stabbed multiple times in Accra after catching her brother & mother having sex
Sex Education: 5 ways to prevent premature ejaculation
5 ways to protect yourself from snake bites in the toilet
Man builds house upside down; toilet, kitchen & everything inside is overturned (video)
Sperm- killers, here are 7 things that men need to watch out for
Tiwa Savage changes song lyrics as Salma Mumin rains dollars on her in Istanbul club
8 signs your guy really wants to marry you
Super Falcons star Francisca Ordega shows off curves in stylish outfit [Photos]
North Korean man who smuggled 'Squid Game' into the country to be sentenced to death