Lecturer exposed by female student he got pregnant
A lecturer based in Ogun State is in a serious mess after a student he slept with for marks got pregnant and has been calling him out.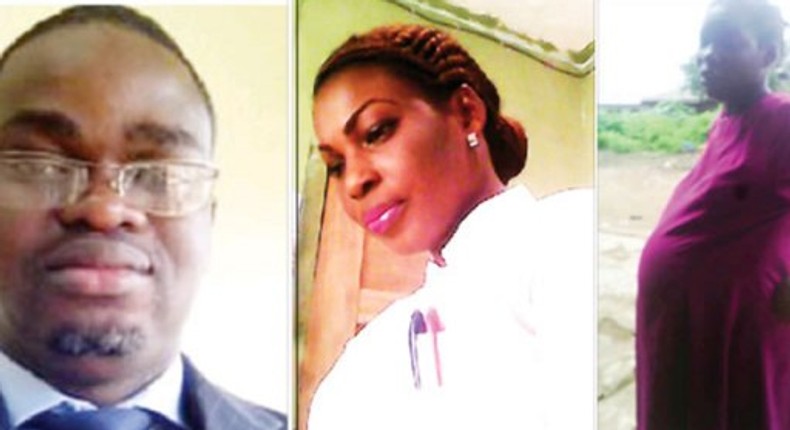 A lecturer at the Ogun State College of Health Technology, Ilese-Ijebu,
While narrating her story to Punch, Mosunmola explained that she and Dr. Adu had sex in August 2016 in a hotel room and that she is now 38 weeks pregnant for him.
She said her problem started when the lecturer failed her in one of his courses and she went to him to find out why he failed him in the course as she always did well in his courses.
"When I got to the second semester in my 300 level, he (Dr. Adu) awarded me 38 in one of his courses. I went to his office in August 2016 to know why I failed the course.
I needed to pass all my courses to be able to go for my board exam. Dr. Adu is the Oral Health Coordinator for the college. During my three years study, he taught me two courses each semester. I have never failed his course.
He asked me if I thought I could just come to the school and go like that. He said if I dated him, he would waive the course. He said he didn't approach me in 100 level because another lecturer was interested in dating me.
The lecturer he mentioned told me in 100 level that it was either I paid him money or used my body to pass his course. Because I didn't agree, I failed his course. I didn't pass it until I got to 300 level.
I told Adu that I would date him but I didn't want to have any problem, and he assured me that there would be no regret."
Mosunmola continued that Dr. Adu took her to the Head of Department's office where it was agreed that she could sit for the board exam and she and other students took the exam at POGIL, College of Health Technology, Oke-Eri, Ijebu Ode, on August 21, adding that her new lover who was among those on the panel, gave her some of his practical instruments and a laptop for safe keeping.
She added that when the school bus arrived to take the students back to the school, she forgot to give the practical instruments back to the lecturer and he later called and asked her to bring the instruments to a hotel where he lodged.
"I was preparing to leave when he called me back that I would be sleeping over with him. I met him with another lecturer in my department. I observed that the lecturer also had a female student with him.
From the hotel, we went to different places before we finally lodged in another hotel along Ilese Road. While I was with Adu in a room, my other classmate passed the night with the second lecturer in another room.
We had three rounds of sex. He didn't release on time. He used two condoms for the first two rounds. The third round was, however, flesh-to-flesh. That was when he ejaculated inside me."
Mosunmola added that they started to have problems when she stopped seeing her monthly menstruation and when she began to experience early signs of pregnancy, she went for a test and it came out positive.
When she informed Dr. Adu about her situation, he allegedly gave her a drug known as Eprostol to abort the pregnancy.
"I refused to take the drug because the prescription was not from a medical doctor. He came down to my place to persuade me to take the drug, but I still refused.
He asked me what I wanted and I told him that I needed to change my accommodation because the pregnancy was a shameful thing for me.
He told me not to worry, that he would handle it. After that, we had sex again. When he left that day, I could not find my phone again. By the time I got another phone and called him, he started acting funny. Some time, he would just laugh at me."
The lady continued by saying that the Head of Department, the Dean of the faculty, and the institution's provost all attempted to mediate in the matter but that all their efforts were rebuffed by  Dr. Adu.
She then had to report the matter to the Human Rights Office of the Ogun State Ministry of Justice at Ijebu-Ode where a lawyer called the parties for a meeting.
At the meeting, she alleged that Dr. Adu agreed to pay N5,000 to her as feeding allowance every month, and N7,000 for her ante-natal registration but that he only paid for two months before stopping.
She went back to the Human Rights Commission's office to review the agreement where she presented a list of things she needed to get before giving birth with the amount totaling N50,000 but Dr. Adu said he could only provide N30,000 which she rejected.
"I didn't have any accommodation and I couldn't buy any of the drugs the doctors prescribed for me. I told him I would only manage the N50,000.
He left in annoyance. Since March, the lawyer didn't call us back and Adu refused to pay the N5,000 he used to give me every month.
I called the lawyer late March and asked him to help me get the N30,000, but the lawyer said I should not call him again."
She said she reported the case to the Permanent Secretary, Ogun State Ministry of Health, where Adu also worked and when the desired results were not forthcoming, she went to the college on April 13 when she knew Adu would be taking a class.
She alleged that the lecturer assaulted her when she pleaded with him for money and it took the intervention of some students and other lecturers who stopped from physically harming her.
"I am now in my 38 weeks and anytime soon, I will have my child. I am an orphan and I don't have any of my baby items ready. I am begging Nigerians to come to my rescue.
I know I have made a mistake, but I need a second chance at life. I don't have anywhere to go. It is a church that is accommodating me now," she concluded.
When the randy lecturer was reached to give his own side of the story, he did not deny having sexual relations with the lady but however doubted that he is the father of the unborn child because he always used protection whenever he slept with her.
"She was one of my students but on a personal level, I never knew her until after they released her final results and she failed some courses, including mine.
Her HOD asked her to come and ask me if I could waive the course for her. She called me on the phone and came to see me in the office.
That was my first contact with this lady. When she made her request, I met her HOD who said I should assist her. He said even if I did, she might not sit for the board exam because of the other courses she failed. So, I passed her.
When they sat for the board exam, I was surprised to see her and I asked her HOD why she wrote the exam when she had other courses she failed. He said people begged for her.
After the board exam, she came to thank me for the assistance and she asked to carry my bag and the instruments I used to conduct the exam.
By the time she was leaving, I collected my bag from her, but I forgot my instruments with her. That day, I went to hang out with my friend at the pool of a hotel where we lodged.
Suddenly, I remembered my instruments and I called her to keep them well. But she said she could come to where I was and she came. After dropping the instruments, she didn't leave as I expected and I decided not to bother her.
We were together at the hotel till evening.  One thing led to the other. My brother, she slept in my room that night and we had sexual intercourse. This was a girl I never dated or had any relationship with."
Dr. Adu said that the following weekend, Mosunmola called him to say she was pregnant, but later said she was joking and only wanted to see how he would react.
He said he stopped responding to her calls afterward until she sent him a text message saying the pregnancy had become real.
"I decided to travel down to Ijebu to see her. She brought out the test result and said I was responsible. I told her I used a condom and she couldn't tell me that my condom burst.
She said if I was afraid because I was married, I should not bother because the pregnancy actually belonged to her boyfriend and she merely wanted to see my reaction. I warned her and left.
The next time she called me, she said how would she take my pregnancy to her boyfriend, and that I should take responsibility for it.
She said she would abort the pregnancy if I wanted her to, but I must rent a house for her in Ijebu-Ode and then she described the kind of house she wanted.
When I heard that, I told her to do her worst because it was obvious to me that she just wanted to blackmail me. She had been going round different places, telling people that I impregnated her.
The question I ask is, did I rape her? Did I hypnotize her? You came to meet me where I was and we had fun, and now you are pregnant, and you are telling me I am responsible for a pregnancy I am denying?
When she was disturbing me so much, I reported the matter to my wife and begged for forgiveness to avoid Mosunmola getting to my wife first. I agreed to pay the N5,000 after much persuasion from the human rights lawyer.
I regret that decision because Mosunmola turned me into a Cash Cow after that. When she brought the list for the baby things, I asked her; 'Why are you making it seem as if I am the father of your baby? Am I your husband?'
She suddenly flared up and said I should even go away that she didn't want anything from me again. She cursed me and after that encounter, I decided to stop giving her anything.
When she came to meet me in the school, she attacked him and was about stripping me naked until I forcefully got away from her.
Even when she reported the case to the police station, it was thrown out after I told officers that she was the aggressor.
People impregnate people and nothing happens. Why is she treating me as if I had done something criminal? The worst that will happen now is for me to die.
I am not a young man; if I die, people will cry and I will be done. But I also ask myself, what if the pregnancy is mine? My prayer now is for her to deliver safely and we will determine the paternity of the child," he concluded.
JOIN OUR PULSE COMMUNITY!
Recommended articles
Clubless Super Eagles star Kelechi Nwakali surprisingly rejects ₦9.9million salary
Nollywood veteran actor Kenneth Aguba reportedly homeless
Here are 5 things you must do immediately after you have s*x
Burning woman grabs husband as he sets her ablaze over divorce
2023: Kwankwaso explains why Labour Party can't win presidential election
5 s*x positions that guarantees orgasms
El-rufai endorsed as Tinubu's running mate
Israel Adesanya survives Drake curse with victory against Jared Cannonier
'I have never raised my hand to hit my wife' - Chacha Eke's estranged husband speaks