Brokenhearted cat finds solace at owner's graveside
Heartbroken cat remains at late owner's graveside for one year after her death.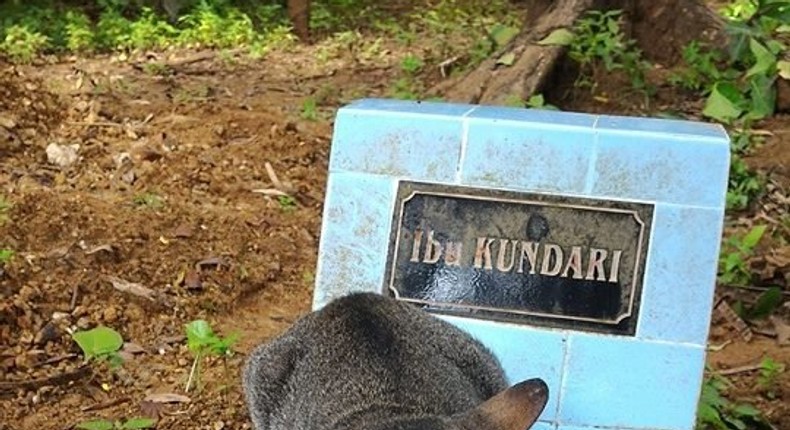 Knowing that cat have nine lives, we can only expect that their love would be undying too.
This cat was so heartbroken by the death of its owner, she has spent a year living by the graveside.
The mourning cat was first heard crying as it lay on the ground at the burial plot in Central Java, Indonesia, Daily Mail reports.
A 28-year-old passerby identified as, Keli Keningau Prayitno, reportedly made attempts to adopt the cat but it would always return to the same spot where he had found it, lying on its late owner's blue headstone.
Keli told Daily Mail that he tracked the cat and realised that she walked to the home of her late owner on a daily basis and was fed by the children of the deceased, before returning to the grave.
According to Daily Mail, several passersby have been generous enough to provide food and water for the muggy, but it has refused to leave the graveside.
"Since the cat's mother died she has stayed here at the grave. She does not want to go home. She has been here for almost a year.
"I thought she was homeless and tried to help but every time she would keep returning to the same place.
"I saw her every day and noticed that she was always there, but sometimes would leave for a couple of hours then come back. I followed her and she was going to the home where she used to live and the lady's children would feed her.
"Then the cat would go back again to the same place. She sleeps there and meows.
"It's very sad to see. It shows just how close animals are to their owners."
Keli reportedly followed the cat and discovered that the former owner was an old lady called Kundari who died just over a year ago.
Even now, a year after the loss of its owner, the cat can still be seen at the grave night and day.
JOIN OUR PULSE COMMUNITY!
Recommended articles
Here are the 5 worst cities to live in Africa, according to Economist Intelligence Unit report
Here are the top 10 best African countries to invest in this year
10 African countries with the largest foreign exchange reserves
5 worst UEFA Champions League finals in history
Heartbreak for Nigerian girls as Maduka Okoye's girlfriend shows up
Davido shares experience of working with Kanye West on his next album
Why do single women find married men attractive for relationships?
2023: Court clears Jonathan to contest for president
Did you know some men find it hard to ejaculate? Here's why that happens