BASE jumper live streams own death on Facebook
28-year-old BASE jumper, Schmieder, live streams what turned out to be his death after jumping of the Swiss Alps, in a chilling video.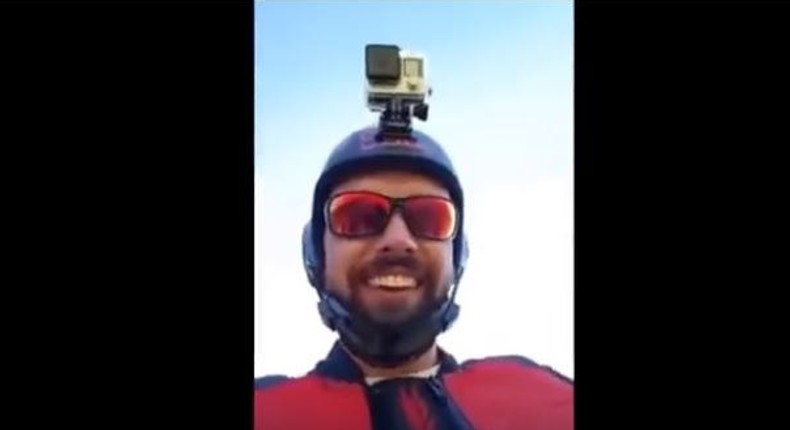 BASE jumping is one of the go-to activities for adrenaline junkies mostly because it is as dangerous as it seems.
Sadly, this 28-year-old Italian will learn this the hardest way imaginable.
The deceased live-streamed what turned out to be his death on Facebook, after telling his fans, "Today you fly with me" moments before leaping to his death in the Swiss Alps in Kandersteg, Switzerland.
The video clip shows Schmieder talking to his fans before his phone is kept in his pocket to record to jump.
For about six minutes, fans can hear the wind in the clip before a scream is heard followed by a sickening thud, after which everything goes quiet.
Officers confirmed Schmieder's death but are yet to confirm what may have caused it.
BASE jumping is coined from the four places one can launch from with a parachute or a wingsuit, an acronym for Building, Antenna, Span, and Earth (cliffs).
Unfortunately, daredevils like Schmeider understand the risks of what should not be described as a hobby, as the BASE community has continued to suffer one too many tragic deaths and Scheider's will not be the last.
JOIN OUR PULSE COMMUNITY!
Recommended articles
5 outfits for 5 days of work inspired by Regina Daniels
Cement price will hit ₦9k due to FG's plan to introduce concrete roads — Manufacturers
BREAKING: Supreme Court building engulfed in flames
Whitemoney's team responds to allegations that they sold his votes
Fireboy pays tribute to Mohbad during his Trace Live concert
Africa's food insecurity to be non-existent in the next 5 years - AfDB
Meet the 6 finalists on 'BBNaija All Stars'
How to make 'masa' or rice cakes, a Nigerian Hausa delicacy
Venita, Soma and Angel get evicted from Big Brother Naija All Stars