Maje Ayida takes on Betty Irabor over abusive relationship comments
After Betty Irabor took to her IG to write about women hanging on to abusive relationships, Maje Ayida has urged her to also talk about men in such relationships.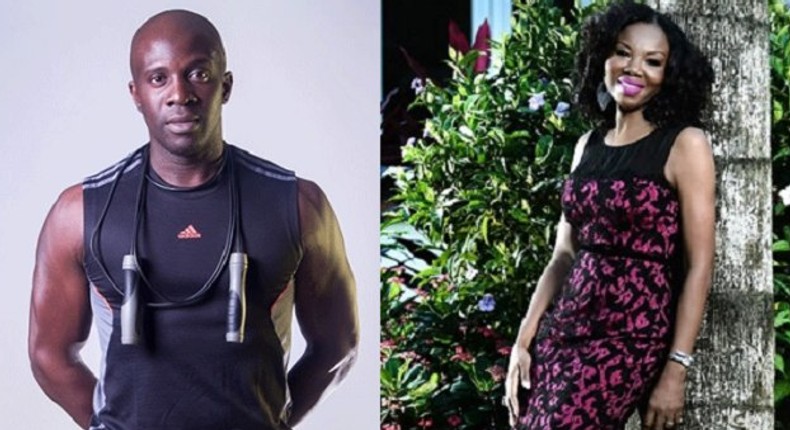 Top female journalist and publisher of Genevieve Magazine,
So it was a vintage Irabor who decided to do a write up about women in abusive relationships on her Instagram page, saying the best thing is for them to walk away instead of hanging on there waiting to be killed.
But immediately she had finished with her write up, Maje Ayida, the estranged husband of On Air Personality, Toke Makinwa, told her to also talk about men who find themselves in abusive relationships, instead of putting all the blame on the men.
This is what Irabor wrote:
"Marriage by fire, by force???
Some time ago, a young friend of mine found herself in an abusive marriage. Initially, her husband never laid a finger on her, he let his tongue do the job.
He called her all sorts of names and lashed out at her with foul words. He would always dare her to pack and go and would always chuckle; 'let's see where an old cargo with 3 kids like you will go; who will even look at you?'
She did try to leave a couple of times but somewhat returned to him after he came to ask her back; promising he would be a better husband. Then the circle of abuse will start all over again.
One day, however, he went too far when he tried to strangle her for daring to fight back. Bruised and battered, her parents came and took her and the 3 children away.
As they left, the husband jeered, shouting; 'old cargo, you and your children will soon come back begging; which man will look at you?'
But this young lady had had enough and was determined never to return. She braced up to become a breadwinner and joined her sister in her factory. It was while working in this factory that she met a man (he'd never been married), who fell in love with her and married her along with her 3 children. Old cargo?
Women in abusive relationships face a lot of emotional manipulation which stops them from leaving. They are told they are useless and nobody will look at them.
Betty Irabor tells women in abusive relationships to walk away
On their own, they are afraid of the unknown world ahead. They worry about the judgment of society and the stigma of being single mothers.
The result is they "hang In there" until they become profile pictures and Internet stories of another woman butchered by her husband. Every woman in abusive relationships needs to realize that being married by fire by force is not what true marriage is about."
"It is nothing short of self-delusion to manage a bad relationship just to please society. You have to know your worth and believe that you are deserving of more. You are not an old cargo!!
There's life after one bad marriage! Your self-worth is not tied to one bad choice you made in a marriage partner. When you have the grace to move on, do move on. You deserve more."
Ayida fired back at Mrs. Irabor with the words:
"Would love to know your view of men in abusive relationships as well."
But Maje Ayida wants her take on men in the same boat
JOIN OUR PULSE COMMUNITY!
Recommended articles
Here are the 5 worst cities to live in Africa, according to Economist Intelligence Unit report
10 African countries with the largest foreign exchange reserves
Travel & Tourism: Here are the top 10 most developed countries in Sub-Saharan Africa
Bolton's new 'Jay-Jay Okocha' wants to represent Nigeria ahead of England
Stefflon Don replies Burna Boy on new single, 'First of All'
Abba Kyari escapes murder in Kuje prison
2023: Court clears Jonathan to contest for president
Here are the top 10 best African countries to invest in this year
5 worst UEFA Champions League finals in history