Security guard caught while raping pupil
A 40-year-old security man in a primary school has been arrested for raping an eight-year-old pupil.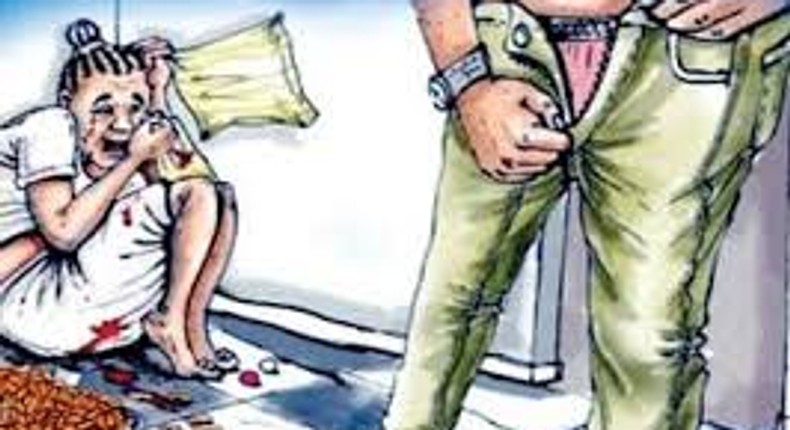 A 40-year-old security guard of Adeniyi Primary School, Itire, Lagos State,
It was gathered that Oshoba, an indigene of Ekpoma in Edo State, had lured the primary two pupil identified as Mercy, into the classroom after school hours while waiting for her sister, and defiled her at around 2pm.
The court heard how Oshoba had persuaded the minor to follow him to a deserted spot within the school and removed her underwear, and raped her afterwards.
His sordid act was discovered after a primary five pupil identified as Bukola, who was on an errand for a teacher, caught Oshoba who is popularly known as Mopol, in the act and reported to the teacher.
On getting home, the victim reportedly narrated the incident to her parents and an uncle followed her to the school the following day and reported the matter to the head teacher who invited policemen from the Itire Division, and Oshoba was arrested.
During interrogation, Mercy allegedly told the police:
"I was in the school on May 11, 2016, at about 2pm when Mopol (Oshoba) called me to a place on the school premises. He removed my underwear and put his thing (manhood) inside my bum-bum.
Bukola, who is in primary five, saw us and reported to her teacher. I also told my daddy when I got home."
But Oshoba has denied raping the girl whom he claimed not to know her name but could not say what he was doing with her at the spot he was caught by the senior girl.
"The girl is one of our pupils in Adeniyi Primary School. I did not know her name, but I know she is in primary two. I did not do anything with her. I was married, but my wife left me and I don't have any child."
A social worker at the Mirabel Centre of the Lagos State University Teaching Hospital, where medical examinations were carried out on the victim, said the girl had bruises in her private parts.
"The result of the test conducted on the girl shows that she had bruises and fresh lacerations on her hymen. These suggest that the suspect forcefully penetrated her private parts as she claimed."
When the one-count charge of rape was read to the accused, he pleaded not guilty and the presiding magistrate, Mrs. A.O. Adegbite, admitted him to bail in the sum of N200,000 with two sureties in like sum, while the case was adjourned till July 27, 2016.
JOIN OUR PULSE COMMUNITY!
Recommended articles
These 6 countries have the highest unemployment rates in Africa
Top 10 happiest countries in Africa in 2022
Blossom Chukwujekwu's ex-wife apologises for laughing after troll mocked his new wife
Best dressed celebrities at Ini Dima-Okojie's traditional wedding
3 ways Arsenal could steal Champions League qualification
Deborah: Soyinka wants National Mosque Imam sacked over blasphemy comment
Here are the top 10 African countries that smoke the most cannabis
For men only: Seven natural ways to last longer in bed
9 most expensive African countries to rent a one bedroom apartment, based on property price to income ratio