Casual worker kills Chinese boss, steals N800,000, $2,000
A casual worker with a drug producing company in Lagos has been arrested after he allegedly killed his female Chinese boss and stole her money.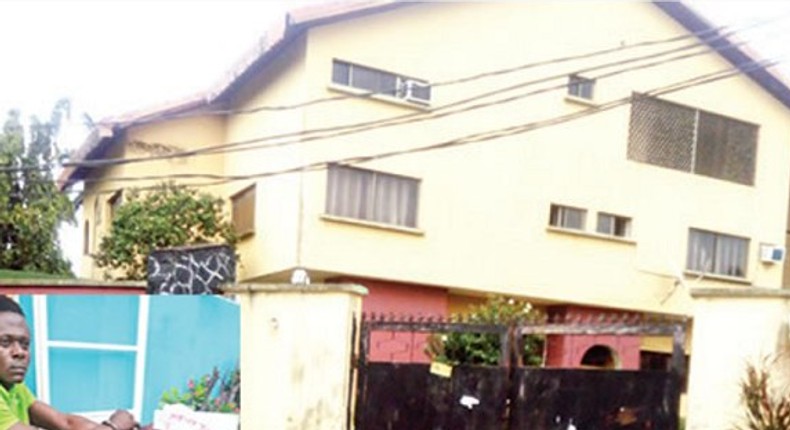 The Lagos State Police Command have arrested a 28-year-old casual worker,
Punch reports that Amos who worked in drug manufacturing company, Green World, located at Tayo Laose Close, Akinola Cole Estate, Adeniyi Jones, Ikeja, murdered the 26-year-old Xu around 8 pm on Friday, June 16, 2017.
It was gathered that Amos had snuck into Xu's apartment while she was asleep and covered her nose with a cloth until she suffocated.
It was also learned that Amos had complained to close friends that Xu had been harassing him and that he would deal with her earlier that day before carrying out the dastardly act.
After killing Xu, the suspect reportedly ransacked the apartment and stole about N800,000 and $2,000 in cash, belonging to the deceased. To evade arrest at the estate gate manned by private guards and two policemen, Amos disguised as a mentally derailed person.
But luck ran out on him when a security guard stopped him and asked what he was doing at the estate at that time of the night. After a search on him, the stolen money was discovered and he was promptly handed over to the police at the nearby MAN Centre Police Division.
The security man who nabbed Amos said:
"I was at the security post around 9 pm that day when I saw a man half-naked. He walked towards the gate bare-footed. He was holding a pair of slippers and carrying a load wrapped with a shirt on his head.
I initially took the man for a mad person, but after a closer look, I discovered that he is Ikechukwu (Amos). I asked him what was wrong and why he was dressed like that.
He said he was angry and that he was quitting his job at the company. I asked if the person that brought him to the company was aware, he said no.
I volunteered to call the person, but he refused. I requested to know the content of the bag with him, he was reluctant.
That was when I became suspicious and called a policeman, who was at the gate with me. He interrogated him and forced him to open the bag.
The bag contained a lot of cash. He led the policeman to the company, where we found the woman dead."
A police source said the suspect in his statement, stated that he had endured frequent harassment by the woman and decided to punish her.
"He alleged that the woman had been very insulting and disrespecting to him over a period of time. He said the woman even insulted his mother.
He was employed recently by the woman through somebody and he worked in the supply department.
He gained access to her apartment when she had slept and tied her up. He covered her mouth and nose and the woman died because she could not breathe properly.
He said he only wanted to punish her and didn't mean to kill her. Sums of N800,000 and $2,000 belonging to the woman were recovered from him."
A worker at a nearby neighbouring company who gave his name simply as Abubakar, said the premises had been shut since Friday.
"It was when I came to work on Saturday that I learned about the incident. I was shocked. The woman was young and usually jogged around the estate. I think it was greed that made Amos kill the woman," he added.
The State Police Public Relations Officer [PPRO], ASP Olarinde Famous-Cole, who confirmed the incident, said the suspect had been transferred to the State Criminal Investigation and Intelligence Department, Yaba, [SCIID] for further investigation.
JOIN OUR PULSE COMMUNITY!
Recommended articles
5 kitchen ingredients that you can use for pink lips
Man battles for life at hospital after being raped by 2 women, leaving him unconscious
UK suspends processing of visitor visa applications in Nigeria
Here are 7 things your partner does not need to know about you
Women, this is why you should learn to initiate sex more in your relationship
You should not do any of these while visiting the Oba's palace in Benin
BBNaija's Tega releases steamy photos to mark 30th birthday
4 common mistakes that lead to boredom in a relationship
8 children who locked themselves inside abandoned car confirmed dead in Lagos