'How I was able to escape from police for so long' - Billionaire kidnapper
The billionaire kidnap kingpin who was recently arrested by the police in Lagos State has revealed how he was able to elude the police for many years.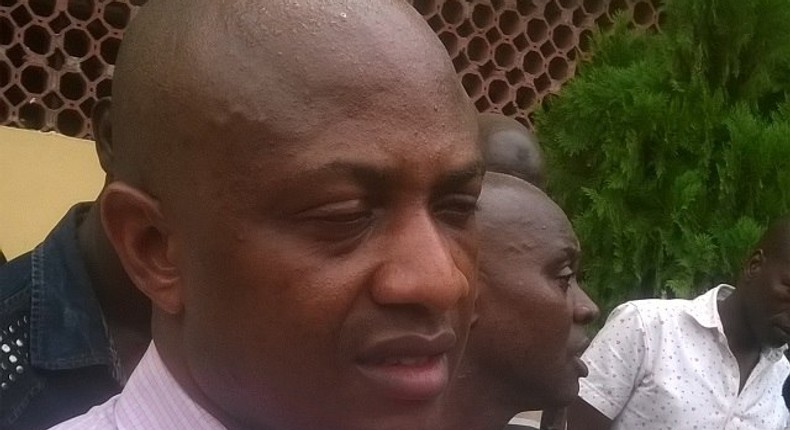 Following his arrest by the Inspector General of Police Intelligence Response Team (IRT),
The now sober Evans who was paraded at the Lagos State Police Command Headquarters in Ikeja on Sunday, June 11, 2017, traced his journey into the crime world and how he started from his home in Anambra State during the regime of former Governor Peter Obi but had to relocate to Edo State when the heat was too much for him.
From Edo State, he moved down to Lagos where he became one of the biggest kidnap kingpins keeping as many as seven gangs which made it impossible for the police to pin him down.
Evans who confessed that he made billions from kidnapping and invested heavily in properties, said he bought two mansions in the Magodo Phase II GRA in Lagos valued at over N300 million with two other houses in Accra, where his wife and five children live.
Evans spoke to Pulse during his parade alongside members of his gang including Uchechukwu Amadi and his wife, Ogechi, Chukwudi Nwosu alias Skido, Felix Chinemerem, the second in command in the gang, Chukwuemeka Ikenna Bosah, and Suoyo Paul aka Nwana, the gang's armourer.
How did you start as a kidnapper?
"My friend, known as Hunch Man, introduced me to kidnapping and after a few operations during Peter Obi's administration, we were forced to leave the state and we moved to Edo State. I had some boys from Warri, Delta State, working with me."
How many kidnappings did you carry out then?
"We carried out two big kidnappings where our victims paid N80 million and N100 million respectively. In 2013, I came to Lagos and I went straight to Festac Town.
Before I came to Festac, I had already established contacts with some boys. One of the jobs we did was that of the owner of Young Shall Grow Motors, ."
How did you carry out the Young Shall Grow boss's kidnap?
"One guy known as Emeka, brought the job and we were five that went for that operation - Hunch Man, Nnamdi, Uche, Nwoke and I.
I was the one driving and our target was to kill Young Shall Grow's driver and his police orderly. Hunch Man, Uche, Nnamdi, and Nwoke were carrying guns and they were the people who fired at Young Shall Grow.
Hunch Man and Uche were killed during the attack, while Nnamdi, Nwoke and I survived. That operation was my most bloody operation.
I didn't know it was going to turn out that way. I usually don't know names of people I kidnapped in Festac. But if I see them,  I will tell you what I did to them. I have people who gave me information about my victims."
Tell us about the pharmacist who escaped from your custody?
"The pharmacist job is the only one that gave us a problem. I keep my victims for months because I want their people to pay the ransom I demanded. I have people cooking for my victims, one of who stays in the house; his name is Uche.
We kept him (the pharmacist) at Uche's house in New Ignado but he managed to escape. The other boy is from Aguleri. The boy is a new person, but Uche is old.
I usually pay Uche N20 million for every operation. I usually make the calls for the ransom. I have six boys in Lagos."
What is the highest ransom you have collected from your victims?
"The highest ransom I collected was $1 million dollars from somebody living in Festac."
Do your family members know you are into kidnapping?
"My mother knows I am into crime but she is not in support. She has warned me several times to stop what I was doing. She does not come to my house because she is not in support."
So how much did you buy your houses and how many do you have?
"I bought the houses in Magodo GRA for N130 million and N100 million. My house in Ghana is bigger than this one. I don't kill. I don't kill during my operations."
The police in a statement said Evans is a very brilliant but vicious kidnapper who kept many gangs and did not interact with many of his gang members on a personal note and that made it difficult to pin him down.
Commenting on his modus operandi, the Force Public Relations Officer (FPPRO), CSP Jimoh Moshood said:
"In every kidnap attack, he has separate armed groups that kidnapped victims with another armed group who takes over the victim to their hideouts and prevent them from escaping.
The members of the groups don't know each other. They complied with Evans instructions."
JOIN OUR PULSE COMMUNITY!
Recommended articles
Africa's richest man Aliko Dangote seeks to raise an additional $1.1 billion to complete his refinery project by 2023
8 African countries where Rihanna plans to launch her luxury Fenty Beauty products
#AMVCA 2022: Best and worst dressed celebrities
'Go back to your Third World country' - WNBA star Liz Cambage accused of igniting fight with Nigeria's D'Tigress
8 passive income ideas for African fashion designers
Ifuennada's N58M dress and the many lies celebrities tell [Pulse Editor's Opinion]
New Music Friday: Latest releases featuring Davido, Burna Boy, Asake, Zinoleesky, Rema and others
5 characters from 'Blood Sisters' that got fans buzzing
I ran out of town when I was accused of sleeping with dogs - Cossy Orjiakor