'I am not a Badoo sponsor, the police just want to frame me' - Businessman
A businessman who was arrested by the police and labeled a Badoo sponsor has called on the force to prove their accusation or he would sue them.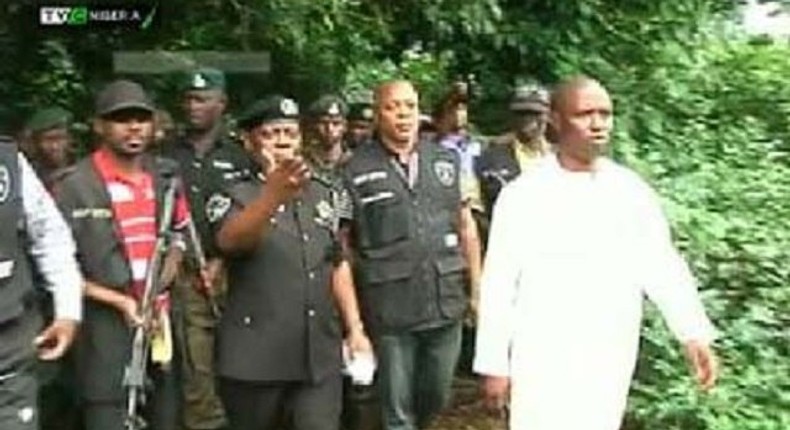 A Lagos State-based businessman,
Alhaji Abayomi who was arrested on Monday, July 31, 2017, when the police stormed a shrine said to belong to the gang and owned by him, spoke to journalists on his arrest and eventual release even as the police maintained he is still in their custody.
The business man behind the popular Alaka Petroleum told The Nation Newspaper that he was merely invited by the police to make statements after which he was released from custody.
However, the State Police Command insists that Alhaji Abayomi who is a landlord at the highbrow Magodo Phase II GRA, is still in their custody and that he has been admitted to a hospital where he is set to undergo a surgery for enlarged testicle.
According to Dr. Paul Umoh, a Chief Superintendent of Police [CSP], the officer-in-charge of the Inspector-General of Police' (IGP) Special Tactical Squad (STS), Alhaji Abayomi was never released.
CSP Umoh described Alhaji Abayomi as a suspect, even though he denied being a Badoo sponsor and that he is still being investigated.
"The man admitted he was a traditionalist and that he worships at the shrine. But he denied being a Badoo sponsor. He is not here now because he is not well and has been moved to the hospital."
However, an angry Alhaji Abayomi has threatened to sue the police and the media houses that labeled him a Badoo sponsor.
Speaking in Yoruba, he said:
"For some months now, a recording that mentioned my name, those of the Ikorodu monarch, Ibeshe monarch, a man called Be Happy and others, have been circulating online under the allegation that we are Badoo sponsors.
No one ever came to challenge me or asked about it until last week when I was invited to a police station. Before they took me to the station, they searched my house and they found nothing incriminating.
They took me to a police station. I was not allowed to write any statement. I was released. Then, three days ago, they came around 11 pm and I asked them what happened? They said they wanted to see me in their station.
After that, they went to De King Hotel, Ikorodu, and asked for the owner. They said they wanted to see the owner who was not around and so, they arrested the manager.
From there, they went to the hotel owner's house and his family said he was not around. They went to the palace of the Oba Ibeshe to arrest the monarch.
He lambasted them and asked why they would come to his palace at that ungodly hour to arrest him? He asked them why they didn't invite him and refused to follow them.
They also went to other places to make other arrests. All those they were hunting were people whose names were on the tape circulating online.
We got to the police station around 2 am. I told them I wanted to write my statement but they didn't allow me. The following day, they took me to a shrine.
I know the shrine. I usually go there to seek spiritual assistance to boost my business. I am not the owner. It is owned by one . He died seven years ago.
Those graves were dug by the late Baba Oluwo while he was alive for his burial. I asked the policemen to open the grave whether they would find any incriminating thing there but they didn't. Why did they refuse to open it?
Shortly after, I saw the leader of the policemen speaking with journalists. I asked that I should be allowed to speak on camera but they denied me. They didn't allow me to speak with the journalists and they didn't allow me to write a statement.
It is a known fact that police have been arresting innocent people since the Badoo issue came up. They have been collecting money from them.
Ikorodu people are even tired of them because they didn't go after the main Badoo suspects but are busy arresting innocent people and extorting money from them.
The actions of those policemen could best be described as criminal and murderous. In fact, they are not supposed to be in the Nigeria Police Force at all. There is proof. Those policemen have been coming to Ikorodu to extort and assault people since the issue of Badoo came up.
Unfortunately, the people they are arresting are nothing but innocent people. Since this issue came up, people have been going to attack my house and where I do my business.
The police confirmed that this person is a suspected kidnapper. Why don't they allow me to write a statement? Why don't they allow me to grant an interview?
I will sue the Inspector-General of Police, Commissioner of Police and all the media houses that called me Badoo sponsor. The media ought to have investigated the allegation before publishing anything.
I told the police that the actions they took will back fire, they started panicking. As a matter of fact, I'm seriously upset because the journalists did not interview me.
I was angry that they didn't allow me to be interviewed. Even those journalists didn't insist on interviewing me. What manner of hatchet job was that? Why would that happen?"
A source said Alhaji Abayomi's initial invitation followed intelligence received by the police, Department of State Services (DSS) and the military. The information allegedly named him and some prominent persons as Badoo sponsors.
JOIN OUR PULSE COMMUNITY!
Recommended articles
'We're the monkeys, so no one respects AFCON' – Evra on Ballon d'Or positions
Women, this is why you should learn to initiate sex more in your relationship
Man battles for life at hospital after being raped by 2 women, leaving him unconscious
Ini Edo welcomes baby girl via surrogacy
You should not do any of these while visiting the Oba's palace in Benin
Kate Henshaw and Ubi Franklin trade words over death of Sylvester Oromoni
Here are signs that you're not the main chick in your relationship
4 common mistakes that lead to boredom in a relationship
How hoodlums stabbed NURTW boss in Lagos, shot him to death in hospital