Why is the famous dancer holding a chicken on this magazine cover?
Kaffy's House of Maliq cover is a weak attempt at recreating a highly creative photo of Beyonce holding a chicken.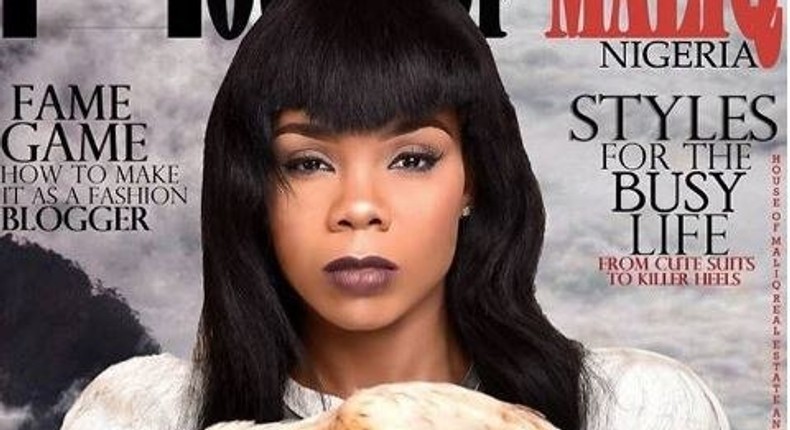 There are some things you see during the day that just inspires you and helps you get going.
On the flipside, there are things you see and it zaps the energy from you.
The latest cover of
We all thought Toke Makinwa in September was bad but dancer Kaffy holding a chicken is way worse. It is horrible. The photo on its own looks terrible with Kaffy's expressionless face as she holds a chicken that has clearly seen better days.
Oddly, this House of Maliq issue is called 'The Daring Issue' but there is nothing daring about that cover. The fonts are not working. The magazine cover feels claustrophobic and aesthetically speaking it is not visually attractive. Magazine covers are meant to attract you to buy the magazine, this right here does the opposite, it repels. This would have been better as a Yoruba movie poster.
Surely, this concept wasn't clearly thought through. Holding a chicken is not a bad idea, but when the concept isn't expertly executed then the results can be bad, just like this magazine cover.
To make matters worse, this idea looks like a rip-off of Beyonce's Beat Magazine cover in January 2016. Now we can see why Kaffy's magazine cover isn't really working.
While the House of Maliq magazine cover is a boring close up of Kaffy's face and an ugly chicken, the BEAT magazine cover takes full advantage of Beyonce's sexy body. The queen of pop music rocked a white swimsuit and the American flag draped over her shoulders. She holds a fluffy clean white chicken. In this photo, the chicken acts as a prop. It doesn't share the spotlight with Beyonce. Without the chicken, Beyonce's photo would have still been dope.
When Beyonce brings the chicken close to her face, the composition of the photo makes it compelling and intriguing.
You can't say that about Kaffy's photo. Take away the chicken and you still have a very bad photo. What message was this photo supposed to pass across? What's the theme? Someone had a brainwave that this concept would look good, but unfortunately, it didn't come out that way.
One of the reasons why magazines don't sell in this part of the world is because of unimaginative covers. Good photos don't have to be expensive. The Beyonce photo is not expensive but creative. This House of Maliq cover is far from creative.
JOIN OUR PULSE COMMUNITY!
Recommended articles
Inside the most expensive school in Ghana where kindergarten costs GHc176K a year
Tonto Dikeh nominated as deputy governorship candidate of Rivers State under ADC
Top 10 African countries with the most expensive gas prices in 2022
Top 10 African Countries with the highest inflation rates in 2022
"I was a one time mechanic", says Khaid as he narrates how Sydney Talker discovered him
When and where to watch Super Eagles of Nigeria vs São Tomé and Príncipe
Owo attack: Buhari condemns killing of worshippers in Catholic Church
BREAKING: INEC confirms Machina, denies Lawan Yobe North senatorial seat
Owo massacre: Amotekun arrests suspects in connection with church attack