Let's not sugarcoat it, Nigerians are barbarians
Nigerians have a double standard in dealing with poor people who commit crimes and rich people who commit crimes.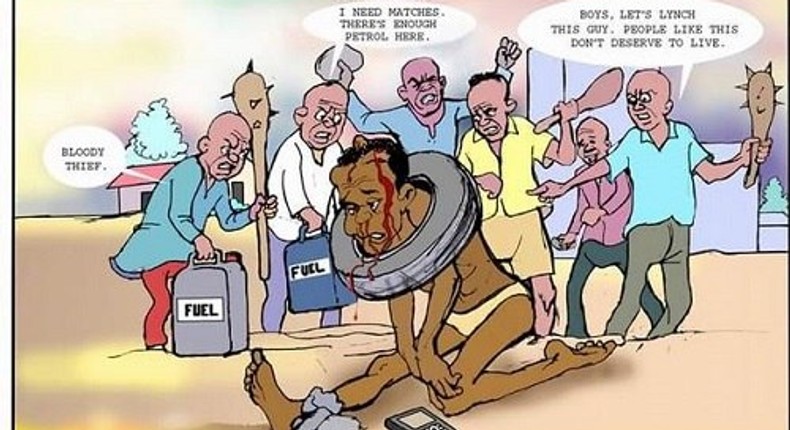 Jungle justice and the mob mentality is still prevalent in this country and it is a sad thing. Yes, there is another version that claims the boy wasn't 7 years old, and he was trying to steal a phone and not garri. It was also said that he tried to kill one of his victims.
The murdered boy's crimes might have been longer than a West African warlord but that doesn't mean he deserved to die in such a barbaric manner.
Our society is barbaric, it kills the poor and praises the corrupt. Tyres and a keg of petrol are quick to surface when someone yells 'thief, thief!' in a neighbourhood. Within a few minutes, a crowd gathers and descends on the 'suspected' thief. His skull is cracked and his are broken before his almost lifeless body is tossed into the flames.
This has happened so many times in Nigeria. It is very rare to find a Nigerian who has not seen the charred corpse of a suspected thief killed by a mob.
The famous example of this perverted form of justice is Aluu 4. Four young men, Ugonna Obuzor, Toku Lloyd, Chiadika Biringa, and Tekena Elkanah were falsely accused of theft in Aluu, a village in Port-Harcourt, Rivers State in 2012. They were subsequently lynched to death.
Nothing was done about the lynching despite the global outcry. Sadly, killings like this still continue in our country.
The hypocrisy of Nigerians and double standards have led to the death of many people who lost their lives to irate mobs. An average Nigerian will be quick to stone or bash the skull of someone suspected of stealing Garri, phones or wallets.
Shockingly, a corrupt politician who has looted the national treasury and collected several kick backs will walk free on any street in Nigeria. People would bow down, hail, greet and genuflect in front of a man who has stuffed his cheeks with the money meant for the development of the country.
An average Nigerian sees a corrupt politician as a mini-god who could bestow him with wealth with the blink of an eye. A poor Nigerian who steals just to get by is seen as an animal that should be slaughtered.
Corrupt Nigerians walk freely on the streets and poor Nigerians who hustle to get by are killed on the streets without any chance at having a fair trial.
Any society that is okay with a boy being killed in cold blood doesn't deserve to be developed. We don't deserve to join other advanced societies of the world. We belong to the stone ages because justice is a strange concept to us. We are barbarians.
JOIN OUR PULSE COMMUNITY!
Recommended articles
5 kinds of noises women make when enjoying lovemaking
Why older men date younger women: Here are 5 real reasons
Top 10 happiest countries in Africa in 2022
Rubber producers present life crocodile to Obasanjo, say they can't give him money
5 things you need to know about Monkeypox
For men only: Seven natural ways to last longer in bed
Here are the top 10 African countries that smoke the most cannabis
Why do single women find married men attractive for relationships?
New video shows Wizkid, Ayra Starr jamming to a song in the studio