'I derive pleasure in stealing' - Suspect tells police
A suspected thief has told the police that he derives so much pleasure is stealing people's things.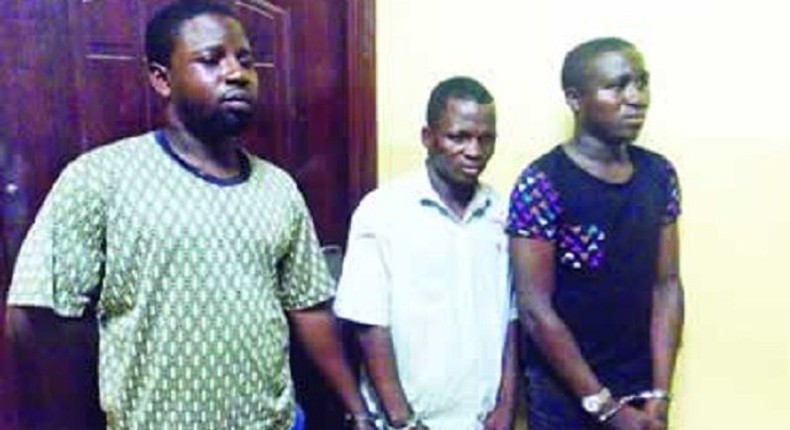 Ibrahim, who says he specialises in stealing phones, told the police he has been stealing since his childhood, and confessed that he had stolen over 100 phones since he started.
It was gathered that Ibrahim was arrested by operatives of Rapid Response Squad of State Police Command, at the Ikeja Along end of the Lagos-Abeokuta Expressway while he was returning from a burglary in the Ilupeju area of the state on Sunday, March 6.
Ibrahim also told the police that he usually sold the stolen items to one Sanni Azeez and Hakeem Kamoru, who were also arrested following his confession.
Read his confession here:
"I derive pleasure in taking what does not belong to me. The act of stealing has become part of me. I am a specialist in burgling people's houses. I used to gain entrance into any house by breaking the door or cutting window net with a razor blade.
Apart from burglary, I also operate during traffic jams, especially on Ikorodu Road, Lagos-Abeokuta Expressway and Apapa-Oshodi Expressway.
The last operation I went for was at Ilupeju where luck ran out on me. I stole two Nokia phones, one BlackBerry and other valuables. The receivers of the phones I stole are Sanni (Azeez) and Hakeem (Kamoru). They live on Akala Street, Mushin."
The Commander, RRS, Olatunji Disu, narrated how his men were able to arrest Ibrahim after he was given a chase on noticing that his movement was suspicious, adding that he was arrested when he could not give satisfactory answers to questions they asked him.
"We noticed his suspicious movement. He wanted to drop his bag in one corner, but when he found out that we had seen him, he bolted.
But we gave him a chase and caught up with him. We conducted a thorough check on his bag where we recovered the stolen items."
JOIN OUR PULSE COMMUNITY!
Recommended articles
5 indicators that Tinubu may not be enjoying Buhari's full support [Editor's Opinion]
Top 5 economies in Sub-Saharan Africa to watch out for in 2023, according to IMF
4 foods that cause erectile dysfunction in men
Osun: Adeleke breaks silence, reveals next move after sack
How to make love: 5 difficult sex conversations couples should have
Funke Akindele recounts saddest day of her life and how it almost ruined 'Battle on Bukka Street'
Nigeria, Cameroon and Zimbabwe lead the pack of African students studying overseas
El-Rufai says some elements in Aso Villa want APC to lose 2023 election
5 reasons why s*x during the rains remains undefeated