Top Trending Stories
Pulse brings you the top Five stories that have gone viral during the week for your enjoyment.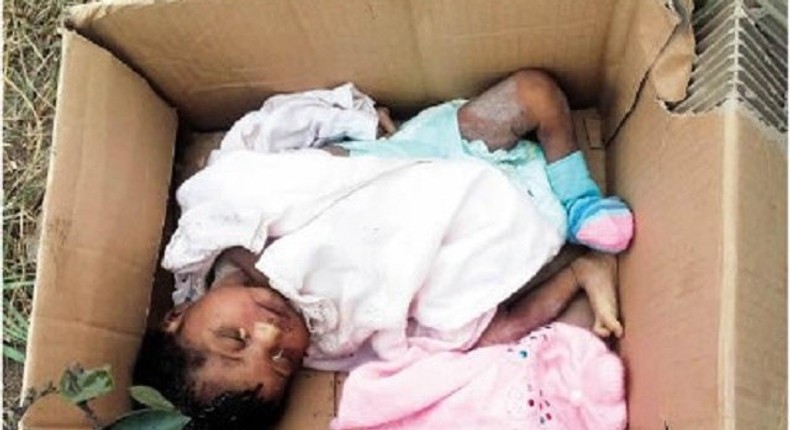 In the past one week, there have been stories in the Gist Category of Pulse.ng
The first story that made this story was a rather pathetic story of a newborn baby whose wicked mother dumped inside a carton in Akwa Ibom State.
When passersby found her crying, no one was afraid of touching her for fear of being arrested and left the innocent baby to cry to her death.
Following closely was the story of a married woman who got stuck with her secret lover while having sex in Kenya. It was gathered that the woman's husband had planted a charm on her to curb her promiscuous way of life.
After the jungle justice that saw the burning of a suspected thief in Lagos a few weeks ago, the scene turned to Calabar, Cross River State where three suspected kidnappers were nabbed and given the kind of treatment they would never forget in their lives.
There was more and more controversy that trailed the much talked about Lagos jungle justice with many saying the victim was a seven-year-old boy who stole Garri in Badagry area of the state.
While the police refuted that assertion, other people said the incident actually happened in Orile area and that the victim was a member of an armed robbery syndicate.
And finally, we had the story of a young graduate who gave his life to Christ and confessed to being a homosexual for many years and how the practice had destroyed his life.
A newborn baby was discovered dead inside a carton after it was dumped by its mother along Ikot Ekpene Road in Uyo, the capital of Akwa Ibom State.
According to Child's Right And Rehabilitation Network (CRARN), a Non-Governmental Organization which is involved in rescuing abandoned children and rehabilitating them, the baby girl which was abandoned near a bank, died after hours of supposedly battling for survival.
CRARN narrated on its Facebook wall that the baby had become pale by the time she was found following a long period of crying.
This is what the NGO wrote on its wall:
"One of the witnesses said the mother might have considered the baby to be of evil or she might have been driven by poverty.
There are a lot of children being thrown away like this in recent times because the mothers think they're witches or plagued by demon spirits or maybe for lack of what to feed the children."
An unidentified married woman and her lover have been caught committing adultery after getting stuck to each other during sex.
Her husband reportedly consulted a witch doctor who gave him the charm he used on her.
The woman and the philanderer soon called for help following difficulties they experienced while trying to untangle themselves from each other.
People in the community carried them out of the house on the bed as it was stated that only the witch doctor can release the pair.
Three persons have been given the jungle justice treatment over allegations of attempted kidnap.
According to an Instagram User, Ifere Paul, the suspected kidnappers allegedly came to Calabar from Delta state and Enugu states to abduct their unsuspecting victims.
The suspects, two men and a woman, were apprehended by an angry mob who descended on them and beat them to stupor, stripping them naked and leaving them bloodied.
The car being used by the suspects also felt the heat, as it was destroyed beyond recognition.
The suspects were subsequently handed over to the police.
In the past few days, the video and photos of an alleged thief being subjected to jungle justice and burnt to death have been throwing up a lot of controversies.
At first, it was reported that the incident took place in the Badagry area of Lagos State and that the victim was a seven-year-old boy who broke into a shop to steal Garri.
Another version of the story had it that the incident happened in the Orile area and that the suspect was not a seven-year-old boy but a member of a gang who robs and maim their victims, sometimes even stabbing them to death.
The State Police Command had also come out with various refutations on the story, initially denying that the incident took place in the state, before saying it has begun investigations into the matter.
According to an eyewitness who identified himself as Nzekwe, the victim was a member of a notorious gang of robbers who had operated in the area for years until nemesis caught up with him.
A young man identified as Emmanuel Stephens has narrated his ugly ordeal as a gay person.
Stephens who is a graduate of Theatre Arts, University of Calabar, Crosss Rivers State, shared his gruesome experience with New Telegraph, with hopes of discouraging intending gays.
He claims to have had his butt stitched on three different occasions and was forced to wear pampers for a period of time as a result.
Read what he wrote below.
"I had my anus sutured three times while I was practising homosexualism. That was the price I had to pay for such ignorance. The first suture was in South Africa. There, it wasn't a problem because people don't give a damn but coming back to Nigeria was a clash of culture and my religion.
"I went to South Africa in search of greener pastures but fell in the hands of late Johnson, a gay, whom I served for four and quarter years.
"I have been admiring the wealth of this man and he drives clean cars. We all sell motor parts but I didn't know he has something else. One day, the man called me and said, 'Victor, you want to be like me?' I said 'yes'. And he asked me to follow him. We entered a public toilet, he removed his pant and showed me blood stained pampers and said, 'This is what we do for money. I blend homosexualism with drugs.'"
JOIN OUR PULSE COMMUNITY!
Recommended articles
Africa's richest man Aliko Dangote seeks to raise an additional $1.1 billion to complete his refinery project by 2023
8 African countries where Rihanna plans to launch her luxury Fenty Beauty products
#AMVCA 2022: Best and worst dressed celebrities
'Go back to your Third World country' - WNBA star Liz Cambage accused of igniting fight with Nigeria's D'Tigress
8 passive income ideas for African fashion designers
Ifuennada's N58M dress and the many lies celebrities tell [Pulse Editor's Opinion]
New Music Friday: Latest releases featuring Davido, Burna Boy, Asake, Zinoleesky, Rema and others
5 characters from 'Blood Sisters' that got fans buzzing
I ran out of town when I was accused of sleeping with dogs - Cossy Orjiakor