2 armed robbers shot dead while robbing a Police Inspector
Two members of a robbery gang that attacked a senior police officer after he made some withdrawals in a bank in Lagos have been shot dead by police.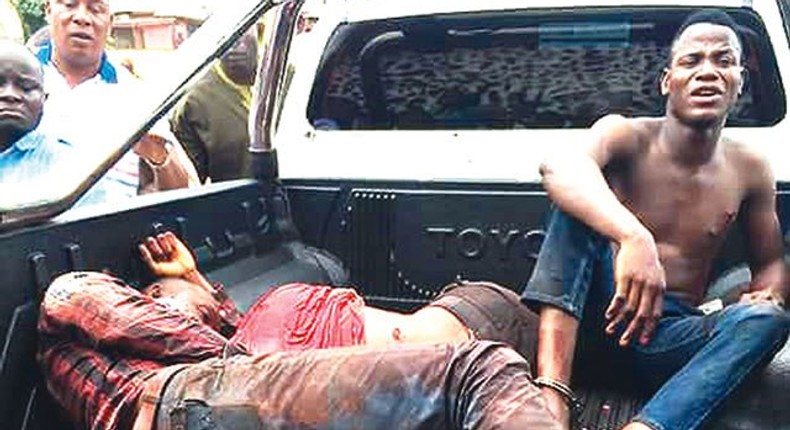 It was the end of the road for two members of
Punch reports that the Inspector who had just left a commercial bank in the area around 11.45am, was attacked by the three-man gang which had trailed him on a motorcycle.
The officer was reportedly shot on the jaw by the bandits before dispossessing him of his money but luck ran out on them while trying to escape from the scene as they ran into a police patrol team attached to the Anti-Pipeline Vandalism Intelligence Unit, which engaged them in a gun battle, with two of the robbers felled in the shootout, while the surviving member of the gang, identified as Gafaru Ismail, was arrested.
The injured police Inspector, who was not in uniform at the time of the attack, was also rushed to a general hospital in the area, while the slain robbers and the suspect were taken to the Special Anti-Robbery Squad, Ikeja.
An eyewitness who saw when the robbery occurred, narrated how the robbers targeted people leaving the banking premises, with the Inspector being the second victim.
"The incident happened around 11.45am. All of us suddenly heard gunshots down the road and we knew it was a robbery operation. Everyone was confused. The robbers, who came on a motorcycle, had first robbed a bank customer, before waylaying the Inspector.
While they were robbing him, they sensed that he had a weapon and quickly shot at his jaw. They collected his money and were leaving when they were cornered by a police patrol team.
The patrol team engaged the robbers and killed two of them. They dragged their corpses into the van. The third suspect also sustained injuries, but he was arrested. It was after the arrest that most of us went out to see what was happening. The shootings were intense."
The State Police Public Relations Officer (PPRO), SP Dolapo Badmos, confirmed the incident.
"On sighting the operatives, the robbers opened fire and the team responded during which two of the robbers were hit by bullets. They were confirmed dead in a hospital. The case has been transferred to SARS for further investigation.
The suspect, Ismail, has been on the wanted list of the command for cases of armed robbery. Items recovered from the gang were two pistols, four live ammunition and one motorcycle."
JOIN OUR PULSE COMMUNITY!
Recommended articles
19-year-old girl stabbed multiple times in Accra after catching her brother & mother having sex
Sex Education: 5 ways to prevent premature ejaculation
5 ways to protect yourself from snake bites in the toilet
Man builds house upside down; toilet, kitchen & everything inside is overturned (video)
Sperm- killers, here are 7 things that men need to watch out for
Tiwa Savage changes song lyrics as Salma Mumin rains dollars on her in Istanbul club
8 signs your guy really wants to marry you
Super Falcons star Francisca Ordega shows off curves in stylish outfit [Photos]
North Korean man who smuggled 'Squid Game' into the country to be sentenced to death