Notorious Ilorin cultist beaten to death by angry mob
Another man suspected to be a notorious cultist in Ilorin, has been beaten to death by a mob.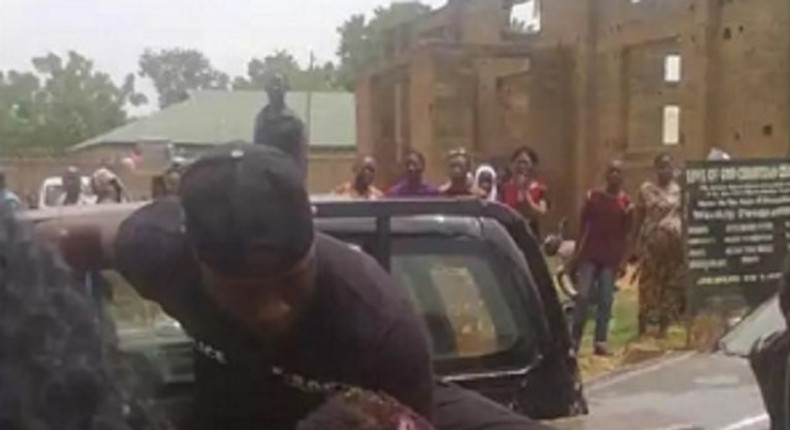 A middle-aged man alleged to be a
Kunle Poly, according to information gathered, died at the University of Ilorin Teaching Hospital (UITH), after the police rescued him from being burnt alive and rushed to the medical facility.
The incident which happened on Thursday, March 31, saw the crowd corner the man who, before then, was reputed to be invincible, and before he could disappear, pelted him with all manners of weapons and were hell bent on burning him before the police arrived and whisked him away.
The angry mob allegedly accused the now deceased Kunle Poly of kidnapping four people and turning them to goats.
The now deceased Kunle Poly on his way to the hospital
An eyewitness who participated in the jungle justice, said Kunle Poly and two of his accomplices who managed to escape, had gone to  Abayawo-Oko, a village in the outskirt of Ilorin, and allegedly kidnapped four people.
The witness stated that villagers who saw the suspects while abducting their victims, chased them with motorcycles.
Luck was said to have run out on the suspects when two of their car tyres burst on Temidire Street and while Kunle Poly was apprehended by the mob, his accomplices escaped.
He added that the mob beat Kunle Poly to a pulp and was about to lynch him when he was rescued by policemen from Surulere Police Station and another team from the Special Anti-Robbery Squad.
The State Police Public Relations Officer (PPRO), DSP Ajayi Okasanmi, confirmed that Kunle Poly was beaten to a pulp by the mob, adding that he was later confirmed dead by doctors at the UITH.
"An alleged notorious criminal was caught by members of the public. Eight goats were found in his car. We have information that the suspect had been a notorious criminal. He is called Kunle Poly, Nobody knows his real name.
By the time the people were trying to mete out jungle justice to him, policemen were invited and they rescued him.
The vehicle and the goats in it had been taken to the police station while the suspect was rushed to the Civil Service Clinic because he sustained injuries. He was rejected at the hospital, but was later taken to the UITH where he was confirmed dead.
On the issue of turning human beings to goats – as far as I am concerned, it is not practically possible for human beings to turn to goats. Goats were found in his (Kunle Poly) car.
The allegation was that he stole those goats. As a common criminal, somebody who is known for crime, the anger of the people overtook them and they started to deal with him."
JOIN OUR PULSE COMMUNITY!
Recommended articles
Top 10 African countries producing Palm Oil
Top 10 African cities with the highest population growth from 2022 to 2023
Top 10 happiest countries in Africa in 2023
In just 2 years, Tanzania has grown the value of its investments to $8.6 billion
5 foods that make menstrual pain worse
The UK and Kenya have entered a partnership estimated to be worth $10 billion
BREAKING: UK court finds Ekweremadu, wife guilty of organ trafficking
Davido reportedly spends over ₦300 million on new Lamborghini
African countries with the cheapest household electricity prices