My husband wants to use me for money rituals, woman tells court
Testifying before Mr Phillips Williams, the court President, the petitioner said there was no love lost between her and her husband.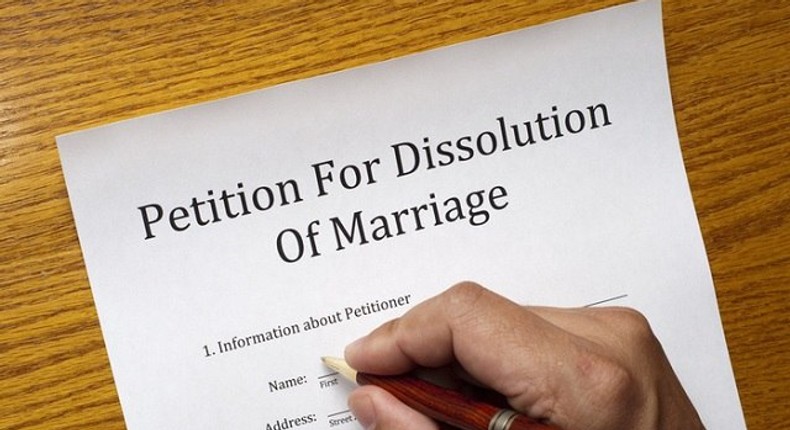 "My husband is too money conscious and is desperate to make money at all costs.
"I live in fear of the unknown because of all kinds of charms l see with him.
"He also beats me up at any slightest opportunity, especially when he is not in a good mood, he visits his anger on me,'' she told the court.
Testifying before Mr Phillips Williams, the court President, she said there was no love lost between them again.
"Sometime in April 2015, when l became pregnant with our second child, my husband placed a charm on me and l became sick and eventually ran mad.''
"He took me to somewhere in Matogun, Ikorodu under the pretext of curing me and l was being fed with all sorts of assorted charms."
The petitioner said that she is still alive today due to the intervention of her family members who came to take her away, when her health was deteriorating.
"I was taken to Ikare in Ondo State where l spent five months, before l became hale and hearty again.''
Bose alleged that when she came back to her matrimonial home, her husband did not relent in his fetish ways.
"He took me to a muslim cleric who gave me a substance and told me not to get close to my husband for sometime.
"On getting home, my husband told me to move to my parent's house, which l refused. This led to a series of misunderstandings between us.''
According to the petitioner, the respondent became confrontational with her.
"He told me that he wants to be rich this year under any circumstances. l must build houses and buy cars'' to which l replied "there is no problem with that, as long as you don't use me for money rituals.''
Bose told the court that the respondent used force to collect her two children from her, under the guise of being a police officer.
"They made me write a statement under duress, to release my children and they took them away from me, claiming that l was mentally unstable.''
"I had to run for my dear life when l realised he was making serious efforts to use me for money rituals."
The respondent, Adewale Oguntoye, an indigene of Ondo State,  resident at No. 4, Oluyomi Olusesi St., Iju-Ishaga, Lagos, however, denied the allegations, but was ready for the dissolution of the marriage.
According to the father of two, there has been a frosty relationship between him and his wife since she came up with the idea of going to another church.
Adewale, a resident of No. 4, Oluyomi Olusesi St., Iju-Ishaga, Lagos, claimed that the petitioner had been keeping late nights and would not disclose her whereabouts.
"She started misbehaving, keeping all sorts of friends and became disrespectful to me.''
Adewale said he suspected his wife was dating the pastor of the church she started attending, even after he vehemently disagreed and warned her not to continue, she remained adamant.
He alleged that the pastor took the petitioner out on Valentine's Day and bought her different gifts.
The respondent described his wife as an adulterer.
On the allegation of trying to use his wife for money rituals, the respondent denied, but the petitioner remained adamant.
NAN reports that the court's president later invited the estranged couple to his chambers for a possible resolution of the crisis.
He then adjourned the case until April 20, for hearing.
JOIN OUR PULSE COMMUNITY!
Recommended articles
Africa's richest woman Isabel Dos Santos finds herself deep in another financial scandal
BREAKING: No more fuel subsidy - President Tinubu
Buhari confers national honours on Emefiele, Remi Tinubu, Terry Waya, others
Top 5 Nigerian chefs with the best Instagram content
FULL TEXT: Inaugural speech of President Bola Ahmed Tinubu
Net worths of Africa's richest people in the top 500
Top 10 richest mineral-producing countries in Africa
Veteran Nollywood actor Adewale Adeyemo is dead
Top 10 African cities where it is most expensive to get food