'My boss is a senior police officer' - Robbery Suspect
A senior police officer has been implicated as the man behind an armed robbery suspect.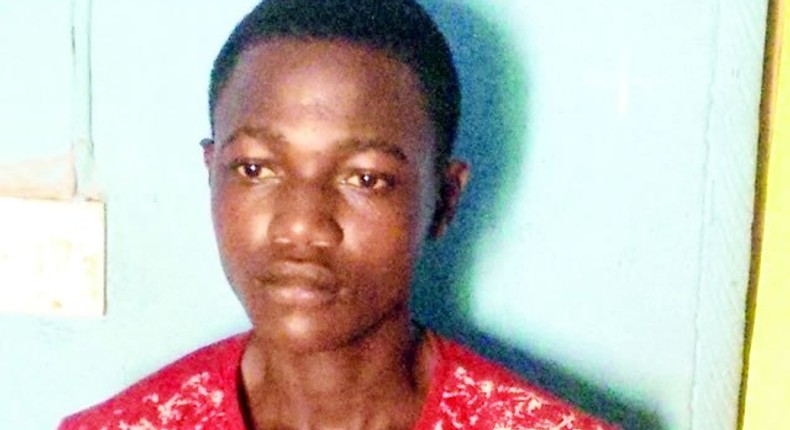 A suspected armed robbery suspected,
The  21-year-old Popoola told police operatives after he was arrested that the senior police officer identified as Inspector Festus, aka Ijaya, has been his mentor in the crime game for over four months before he was arrested.
Popoola who says he is a carpenter by profession, is currently being detained at the Agbado Divison of the Ogun State Command, after he was arrested following a robbery and burglary, in the Giwa area of the state.
He told detectives that apart from burglary, he used to snatch phones and hand them over to the Inspector who would then sell for him, adding that Ijaya and two others namely Abbey and Aluko, would get the buyers arrested minutes later for buying stolen items.
The victims would then pay between N120,000 and N150,000, before they were released, with the officer giving him a paltry N5,000 as his share on each 'deal'.
During interrogation, Popoola said:
"In November 2015, one of my father's tenants and I fought. When my daddy came back home on that day, she reported me to him and he handed me over to Inspector Festus at the State Police Command Headquarters, Ikeja.
He told him I was too troublesome and wanted him to discipline me. But he (Ijaya) did not. He took me to a beer parlor at Alakuko and gave me N5,000. I was very surprised.
Two days after, we met at another beer parlour around Agbado, where I was made to swear an oath. He brought out a gun and put some gin inside the barrel. He drank from it and gave me the gun to do same.
He said he would be sending me on some errands. He gave me a mobile phone and drove me in his Toyota Camry to POWA complex in Ikeja.
He told me to sell the phone inside the complex which I did for N20,000. After an hour, he handcuffed me and took me in his car with his boys – Abbey and Aluko – to the man that bought the phone.
He arrested the man and told him to pay N200,000 if he did not want to be taken to the station. The man raised N150,000 among his friends in that complex and gave him.
When we left there, he removed the handcuffs and gave me N5,000 and we departed."
Popoola narrated that the second deal he had with Ijaya was an iPad he sold to another unsuspecting victim around Ikeja. He also got N5,000 from the N150,000 bribe the inspector allegedly collected from the buyer, who was also accused of acquiring stolen property.
"Sometime in February, the Inspector gave me a Techo phone which I sold to a guy at Agbado. The guy gave me N7,000 and a small phone. Thirty minutes later, we went back with my hands handcuffed.
And as he normally did, he collected about N120,000 from the man before he was released. I also got my N5,000 share. I stole a plasma television at Oke Aro area of Agbado on the order of Ijaya. The TV is still with him. I can say all this in his presence."
The suspect's father, Ahmed Popoola, said he regretted handing over his son to the Inspector, saying his son was a thief before he took him to Ijaya for discipline but turned out to be worse.
"He had been stealing before I took him to a police friend, Yekini, who handed him over to Ijaya with a belief that he (Akeem) will change if he sees the way thieves are being punished. He had been embarrassing me. He still has a case in the Sango-Ota division. I was arrested and detained because of him.
When he finished his secondary school, he told me he did not want to proceed to a higher institution. I enrolled him as an apprentice in my carpentry workshop and constructed a wooden shop for him when he graduated. He removed all the planks I used to construct the shop and sold them. Let the law take its course."
The Ogun State Police Public Relations Officer (PPRO) DSP Muyiwa Adejobi, said the police were on the trail of the said Ijaya and his accomplices.
"The suspect was arrested for robbery and burglary. He mentioned Ijaya and some others and we have commenced investigation.
If any of them is actually a policeman, we are going to send a signal to the command he is attached to and he will be arrested."
But his Lagos counterpart, SP Dolapo Badmos, denied ever having an officer with the name in the command.
"We don't have a policeman bearing Festus or Ijaya in the command," she said.
JOIN OUR PULSE COMMUNITY!
Recommended articles
BBNaija 7: He has sucked my breast, fingered me – Beauty says as she drags Groovy
BBNaija 7: Daniella, Khalid in marathon s*x as Amaka watches in shock
BBNaija S7: Here are 5 things Amaka should have done while Daniella & Khalid had sex
5 ex-beauty queens and their experiences on Big Brother Naija show
'Buga': A song of victory for Nigeria's medalists
BBNaija 7: Calm down, her script was perfect - Beauty's brother fires critics over disqualification
Why Taiwo Awoniyi's Nottingham Forest played with a blank shirt against Newcastle
Oshoala breaks silence after Super Falcons WAFCON disappointment
BBNaija: Beauty disqualified from reality TV show