Robber at large has now been seen four times on camera
For the fourth time in 2016, there is CCTV footage of the crippled thief stealing two phones at an office party.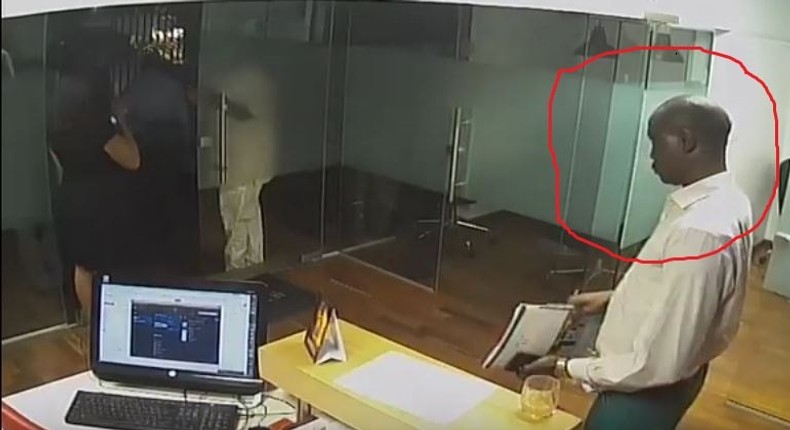 On Friday, November 4, 2016, the infamous crippled thief struck again at an office party in Victoria Island.
In the CCTV footage gathered at the party, the crippled still uses the same style be blending in the crowd and making himself comfortable.
He was drinking his cocktail when he stole two mobile phones which he placed in his pocket and folder respectively. He quickly made his exit after stealing the phones.
This is not the first time the crippled thief has been caught on tape. The robber has been caught on different CCTV footages this year.
On Friday, October 8, 2016, the thief made away with a mobile phone during the celebration of Pulse ambassador Rich Tanksley at Roadster Burgers in Lekki. The robber, just as in other cases blended in with the party people and stole the phone.
In April he struck twice. On Saturday, April 23, 2016, he stole the phones of fashion journalist Latasha Ngwube. She shared the footage of the crippled thief in action on her Instagram page.
"PLEASE HELP REPOST! really really really feel so much hate towards this man. Preying on people's tolerance and empathy towards his perceived handicap. Using it as a tool to curry sympathy and carry out dastardly deeds without fear or remorse. You will be caught! My two phones that you stole are just the beginning of the problems in store for you" she wrote as the caption of the shared CCTV footage.
On the same day, he made away with the laptop of another lady who shared the footage of his robbery on Twitter.
It seems that the crippled thief only operates on the Island part of Lagos. The astonishing is that despite all the CCTV footage he has not yet been apprehended by the law.
JOIN OUR PULSE COMMUNITY!
Recommended articles
5 kitchen ingredients that you can use for pink lips
Nick Cannon's massive bulging pants trends after appearance on TV show
Truck reportedly crushes school students in Ojodu Berger, Lagos
Here are 7 things your partner does not need to know about you
UK will continue to process work, student visas for Nigerians despite Omicron ban
Man battles for life at hospital after being raped by 2 women, leaving him unconscious
Ladies! Here's one major reason why guys suddenly stop showing interest in you after some time
You should not do any of these while visiting the Oba's palace in Benin
Asamoah Gyan: Ex-Ghana striker earned nearly £3 million per goal while playing in China