Man who beheaded woman in Lagos said he was paid N4K (Graphic Photos)
A father of 15 who slaughtered a woman for ritual purposes said he was paid only N4,000 to butcher the victim.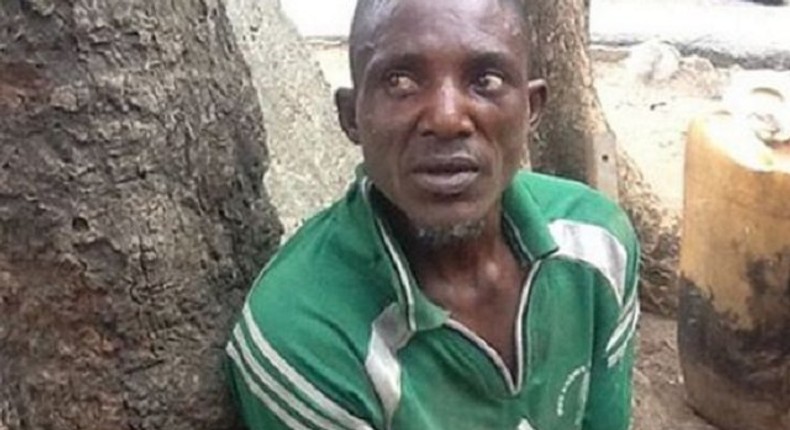 A 61-year-old man arrested by the Lagos State Police Command for allegedly
Vanguard reports that Adara was arrested by a vigilante group in the Itoga-Zeba area of Badagry on Sunday, March 19, 2017, with the head, hands and other parts of the lady he had murdered on his way to deliver them to his client in Sango-Ota, Ogun State.
The suspect admitted to killing the woman, said he chopped off the victim's head with a cutlass, while two Islamic clerics popularly called Alfas, and a herbalist held onto her hands.
He further confessed that the cutlass he used to slaughter the woman whose identity is still yet to be known, was given to him by the herbalist who contracted him for the job.
While answering questions from the police, Adara reportedly said:
"I live at the Itoga-Zeba area of Badagry. I am a wood cutter and at times I assist owners of coconut plantations to pluck coconut.
The whole thing started on Saturday evening when one of my herbalist friends known as , came to me to say that he was expecting two alfas from Sango Ota.
He told me they would be coming with a lady and that he would pay me N4,000 to help butcher the woman. He told me the two needed some fresh human parts to prepare a concoction for one of their clients.
True to his words, the two alfas arrived Itoga on Sunday evening. I noticed that before their arrival, the two alfas had used some charms on the lady. I noticed that she was just obeying their directives without asking any question.
The cheap murderer, Taofeek Hassan Adara
The Alfa from Ota, uses human beings for rituals. He deceived the woman to Badagry, saying he was bringing her to a senior colleague who would perform some cleansing by the river side on her.
Immediately they dropped the woman by the riverside they left with a promise to wait for her at the bus stop. While she was waiting, I came and did my part of the job.
I began by asking her where she came from and she said she was from Ojodu Berger. I felt pity for her, but I could not help the situation.
I was on my way to deliver the needed parts to the Alfa at Sango-Ota when I was arrested. This is my second time of working forand .
Manase was the one that asked her to kneel down and she did. It was while she was still kneeling that I chopped off her head with a sharp cutlass given to me by Manase."
While pleading for forgiveness, Adara who has two wives and 15 children, admitted that he had killed one other person about a year ago, disclosing that Manase was the one who also brought that victim to him and paid him N8,000 for that.
JOIN OUR PULSE COMMUNITY!
Recommended articles
Inside the most expensive school in Ghana where kindergarten costs GHc176K a year
Top 10 African countries with the most expensive gas prices in 2022
When and where to watch Super Eagles of Nigeria vs São Tomé and Príncipe
Atiku group fires back as Obasanjo admits mistake in picking running mate
BREAKING: INEC confirms Machina, denies Lawan Yobe North senatorial seat
Owo massacre: Amotekun arrests suspects in connection with church attack
APC Chairman Adamu announces Ahmed Lawan as consensus candidate
Here are 5 African countries with the best roads
Former beauty queen Precious Chikwendu and her estranged hubby Femi Fani-Kayode reunite after 2 years of rift