52-yr-old man drinks poison, jumps into river in Lagos
A 52-year-old man has committed suicide in Lagos due to the economic situation in the country.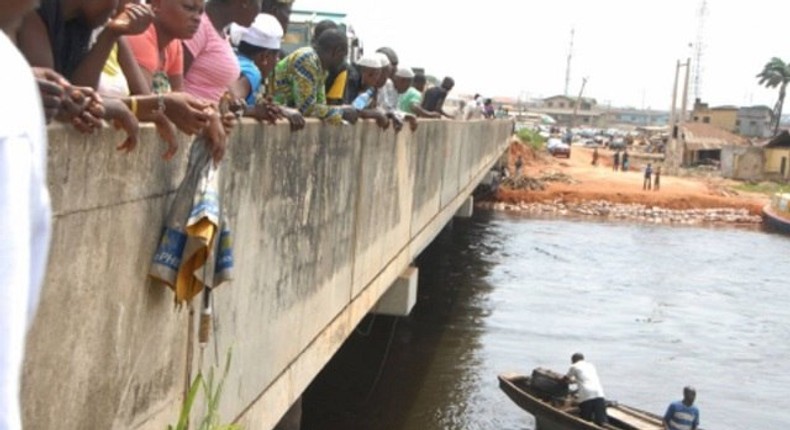 Unable to come to terms with the realities of the economic situation in the country, a 52-year-old man identified as
Punch reports that the body of the late Waheed was found by residents of Salvation Avenue in the Ajegunle, in the area, at around 1.30pm on Monday, September 19, 2016, at the bank of a river in the area known as Itowolo River with a bottle containing a substance suspected to be poison.
The deceased had earlier been declared missing by his family on Saturday, September 17, when he could not be found at home.
A police source at the Owode Police Division where the incident was reported, said that the late Waheed was believed to have taken the poison before jumping into the river.
A resident of the area narrated that it was a man of God identified as Pastor Ajiboye who saw the corpse by the riverside and raised an alarm.
"Pastor Ajiboye, who has a church in our area, was the one who reported the matter to the police station.
The deceased had been missing for two days. He left home on Saturday and failed to return, which caused apprehension in his household. His family members searched the whole area to no avail.
The man did not leave any note behind. So, the family members thought he was picked up by unknown persons and they reported to the police.
But we were shocked that it turned out that the man committed suicide. He was found at the bank of the river on Monday. He was foaming at the mouth."
The State Police Public Relations Officer (PPRO), SP Dolapo Badmos, has confirmed the incident.
"We are investigating The man was found with a substance suspected to be poison Investigation is ongoing."
JOIN OUR PULSE COMMUNITY!
Recommended articles
Meet the Sapeurs, Congolese who wear expensive outfits though they live in poor communities
Nigeria's currency hits a new record low on the official market
Top 10 African cities with the highest purchasing power
Aliko Dangote announces refinery license to process 300,000 barrels of Nigerian crude daily
10 African countries with the highest fertility rate in 2023
Top 10 African countries leading in attracting and retaining talents
Top 10 African cities with the most expensive real estate
7 reasons women don't get wet even when aroused
4 African countries are responsible for 70% of the chocolate in the world